Denis Leary Gets New Rock&Roll Series on FX
If you're a familiar with Denis Leary's brand of intensity–I mean, look what he did in Rescue Me–you should immediately embrace the fact that he's going to star as Johnny Rock in a new FX series called Sex&Drugs&Rock&Roll. (That's right: no spaces.)
Rock is a middle-aged rock star who has seen better days, days that were pissed away with drugs and drink. Now he wants to get the old band back together so that there's at least some measure of a retirement fund.  But because Rock has, er, questionable interpersonal skills, it's not going to be that easy.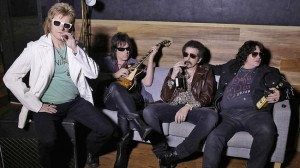 FX has signed on for ten episodes, many of which will apparently feature cameos by a parade of real-life rock stars. Right now the series is scheduled to show up sometime in 2015.
This is just one of a parade of music-themed TV shows.  Fox has something called Empire in production which is set in the world of hip-hop.  And then there's whatever Martin Scorsese is doing with Mick Jagger for HBO in New York right now.
(Via LA Times)