Did a Ramone Almost End Up in Metallica?
It was twenty –five years ago that Metallica lost bass player Cliff Burton in that bus accident in Sweden and we're still hearing stories about how they came to find a permanent replacement.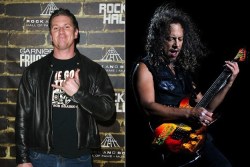 You may have heard that Jesse "The Body" Ventura applied for the job. You may have heard that of Les Claypool, later of Primus, thought about the job.
But did you know this one: CJ Ramone of the Ramones was approached by the band? Not once, but twice.
This wasn't for Cliff's old job but to be a replacement for Jason Newsted, the guy who originally got the gig.
So why did he turn it down? Personal reasons, really. His son had just been diagnosed with autism and CJ has needed more at home than he wanted to be on the road with Metallica.