Dillinger Escape Plan Fights Homophobic Fans with "Gayest Shirt of All Time"
If you're not familiar with the DEP, they sound like this.
They, however, have found themselves in a new debate involving equality and the new wave of gay rights in America. Some of their fans are a little behind the curve, so the band has decided to respond to them by releasing what they call "the gayest shirt ever."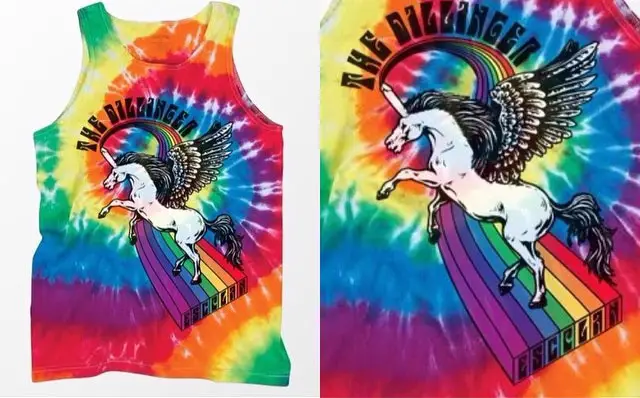 I'll let them explain everything.
To understand the impetus for the fabulous new merchandise — we promise, it's worth it — we have to go back a couple of days to the original incident. In wanting to show their support for the US Supreme Court's recent decision to legalise same-sex marriage in all 50 states, the band released a special T-shirt to commemorate the change, promising 50% of its profits to The Trevor Project, which is focused on suicide prevention among LGBTQI youth — a noble cause in itself.
However, their problems began when they took a badge image they had posted to Facebook in support of the decision — of two muscular arms clasped in a bro-shake, emblazoned with the words You Son Of A Bitch (the whole thing is a reference to Predator) — that had been created by a third party who goes by the name of FutureZine, "altered the image enough to make it legally non-infringing to parody law" and slapped a Pride flag and their logo on it and put it up for sale.
From there, people started to point out their "plagiarism" of the patch — which the band vehemently denied — leading to the band posting a follow-up response in defense of the shirt, pointing out that the majority of FutureZine's designs — the Predator arms included — are trading on other people's intellectual property.
"We of all people obviously have no interest in stealing art," the band explained. "We brought attention to him, we linked to his store, etc. We thought the two people clasping hands was a powerful image. We didn't think that the outline of those arms would be a big deal to someone making money off of selling predator and rambo themed badges, and an actual drawing of Bart Simpson. Not a caracature [sic], not an interpretation, actual Bart Simpson artwork from the show (season four, episode one, exactly two minutes in)."
"We will continue to send fifty percent of the proceeds of this shirt to The Trevor Project, and the other fifty will now go to Matt Groening as a settlement to keep him from suing FutureZine," they continued. "Irony is truly still a really dead scene."
However, amid all the hooplah over the so-called plagiarism of FutureZine's Predator arms, The Dillinger Escape Plan noticed an uglier trend emerging — open expressions of disappointment for their support of the same-sex marriage law among their fans.
Which brings us to the "gayest shirt of all time".
"So after everything yesterday, the thing that still stuck out the most were the random comments we had to delete, and some we didn't, of people who were somehow disappointed in our stance on gay marriage," the band posted to Facebook this morning (AEST).
"Not many, but still, even one is shocking. So now, to violently weed those people out of our fanbase for good, we proudly give you the "gayest" shirt of all time by any band: a Pegasus, with a cock for a horn, ejaculating a giant rainbow, on a tie-dye…shit I mean rainbow soaked…tank top. For twenty four hours. Again, fifty percent of proceeds go to The Trevor Project."
Nice. (Via The Music.com.au)