Disney shows double standard on copyrighted images with a Joy Division t-shirt
Mickey Mouse first appeared in a short film called Steamboat Willy in 1928. Under copyright rules of the day, Mickey's image and likeness should have long transitioned from the property of Disney in the public domain.
The old rule was that copyright on Mickey would last fifty years beyond the life of its author. In this case, Mickey's creator, Walk Disney, died in 1966. That would have meant that Mickey would have been free for anyone to use last year.
That didn't happen of course. The Mouse is still fiercely-guarded property of Disney. Why?
The story begins in 1998 when Sonny Bono (yes, him) sponsored the Copyright Term Extension Act (also known as the Mickey Mouse Protection Act). It made sure that any works made in 1923 or later will not enter the public domain until at least 2019. Because Mickey was created in 1928, he will remain the exclusive property of Disney for five years beyond the 2019 expiration date–2024, in other words.
Bets are that Disney will lobby that their control of the Mouse is extended beyond then, but until such time, woe to anyone who DARE exploit Mickey for any non-Disney-approved purposes.
This brings me to an email from Alex.
Back in 2011, my wife and I went to Disney World for a few days as part of our honeymoon.  Going through the MANY gift shops out there, I found this T-shirt that was essentially the album cover for Joy Division's Unknown Pleasures with the waves reshaped as the iconic outline of Mickey Mouse's head.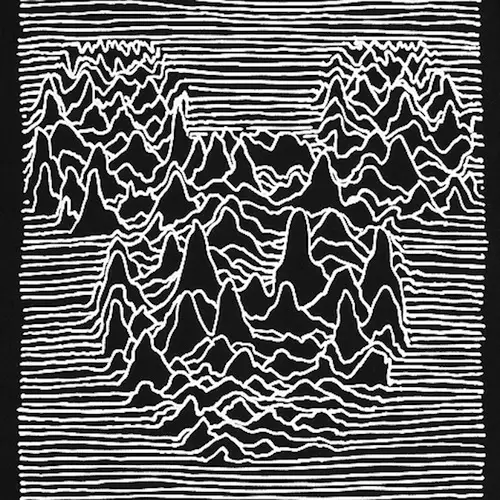 I immediately thought, "That's an oxymoron if I ever saw one!  The happiest place on earth crossed with a hauntingly depressing band's cover art.  I coughed up the $30 for the t-shirt and wore it proudly for a few months.
Fast forward a few years, a few mortgage payments and two kids later, we are planning a second trip to Disney World.  Having gained a few pounds since our honeymoon, I was pretty sure that my t-shirt didn't fit anymore and took to the internet to see if they made them in dad bod sizes.
To my dismay, I read that Disney had pulled the T-shirt from their stores but to the delight of my inner music nerd, they pulled it because they were sold without the approval from the members of New Order!
Huh. So while you'd be sued out of existence for using the Mouse without Disney's permission, Disney felt okay using Joy Division album art without the band's permission?
Back to Alex:
The kicker to all of this is that those T-shirts apparently sold on eBay for around $200US back in 2012! What?!!? That's nuts! [True: The thing is a big collector's item now.]
At this point, I'm not sure what to do with mine. Have it framed and leave it in my basement? Sell it to the Hard Rock Cafe to hang in their restaurant? Put it on eBay and hope for the best? I don't know… What would you do?
Me? I'd frame it and hang it proudly in the Man Cave.