Documentary Alert: Geddy Lee's Baseball Obsession
Hardcore Rush fans know that Geddy Lee is mad about baseball. You might have even seen him in his prime season ticket seat right behind home plate for Blue Jays' games. He's also a hardcore collector of baseball memorabilia.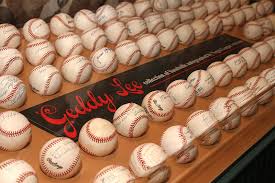 Tonight (Monday, October 13) marks the premiere of a documentary on that obsession directed by his brother. Watch it on Rogers Sportsnet at 7pm ET. (Oh, and if the narrator sounds familiar…)

The Mind of the Baseball Collector – Promo from Fadoo Productions on Vimeo.