A Documentary on the Decline of Sound Quality. Blame Technology.
Earlier this summer, I sat down with a high school student who was working on an essay about how the Internet has affected the music industry. At some point in our conversation, I asked her how she listened to music.
"Earbuds mostly," she said.
"That's it? You don't listen through speakers?" I countered.
She thought about it for a second.  "Sometimes I listen through the speakers of my laptop. That's fine."
"That's fine? You're okay with quality of that sound?"
"Yeah.  It's good enough."
Good enough.  I've heard that a lot over the last couple of years–and it really, really bothers me.  Musicians, producers and engineers agonize over mic placement, room acoustics, outboard effects, mixing and mastering to create full frequency sonic masterpieces only to have them squished into MP3s and listen them through cheap earbuds or bad speakers.  That's just…wrong.
If you're of a certain age, chances are you lusted after some kind of huge speakers that could bump out massive quantities of bass.  I really, really, really wanted a giant set of Cerwin-Vegas like these for my basement bedroom in my parents' house.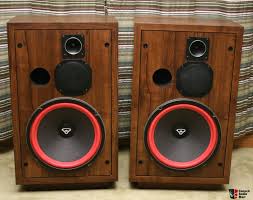 But something has changed since then. There's a generation of music fans for whom high-fidelity just doesn't matter.  Why?
In a word, technology.
The convenience of MP3s and portable music players has trumped any desire for properly accurate reproduction of music.Why bother with all that expensive gear? And if you grew up with MP3s and rips from YouTube, you have no idea what glorious hi-fi sound is like.
A new documentary entitled The Distortion of Sound explores this phenomenon.