Does Loud Music Increase Attendance or Hurt Your Brand?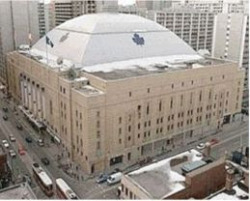 Ask people who remember the Olden Dayes of sporting events and they'll tell you about guys like Jimmy Holmstrom who used to play the organ at Maple Leaf Gardens.
That was it. No blasting Marilyn Manson songs or hip-hop beats. Just a guy at an organ.
Things have changed, obviously. It's assumed that crowds need and want loud music to go along with their hockey/basketball/football/baseball/whatever.
But marketing dude Seth Godin wonders if this is a good idea. From his blog:
The new arena in Newark is purpose-designed to pump as much distortion-free sound into the seats as possible—and they're not afraid to use it at any opportunity.
Noise/music/distraction is as much a marketing choice as your logo or the coupons you use. When the harried clerk at the Delta counter starts yelling into the PA system, that's marketing as well.
The calculation (if it gets made at all) is a complex one. How will this investment in speakers and amps translate into increased attendance? (or sausage sales?)
When you turn the stadium into a real-life video game, when the audience can't hear the players or the skates on the ice, you will no doubt attract an audience—but they will be the drive-by masses, not the lifetime fans. The choice to delight the masses at the expense of the diehards seems easy in the short run, but it's ultimately crippling to the future of the brand.
Good point. Never thought of it. Does he have a point?