Don't You Forget About This: The Strange History of Simple Minds' Biggest Hit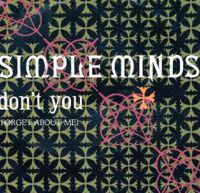 There are many occasions when a song is presented to an artist only to have it rejected.  Mental Floss has a list of 11 songs that became hits for someone else after the intended target told the songwriter(s) to take a hike.
There is, however, a glaring omission:  "Don't You (Forget About Me)," the biggest single in the Simple Minds canon.  The story of this song is worthy of a novel with twists, turns, rejection, redemption and an unlikey happy ending.  It's one of my favourite "behind the hit" stories of all time.
"Don't You" was written by English producer Keith Forsey, a one-time member of a group called The Spectrum who became known for the end title theme of Gerry Anderson's Supermarionation production, Captain Scarlett and the Mysterons from the middle 1960s.
Later, Forsey went on to work for Italian producer, Giorgio Moroder, playing drums on several of Donna Summer's songs as well as co-writting tracks on three of her albums, including Bad Girls, The Wanderer and I'm a Rainbow, having a #1 platinum hit with the song "Hot Stuff" in 1979 
(Sidebar:  That song features a guitar solo by Doobie Brother Jeff "Skunk" Baxter, the member of the band who went on to become a defense analyst for the US State Department.  You cannot make this stuff up.)  
During the Summer years, Forsey also recorded a couple of dance albums in a band called TRAX.  This is from 1978.
At about the time TRAX was embarassing itself with videos like that, Forsey somehow hooked up with a young punk named Billy Idol during the Generation X years and sticking with him through five solo albums.  In between, he worked with Charlie Sexon and the Psychedelic Furs on their Mirror Moves) album.
But back to Billy Idol for a second.  It was during his association with Idol that Forsey became well-known for composing movie soundtracks.  In fact, he won an Academy Award, a Golden Globe and a Grammy for this co-write:
It was around this time that he received a commission from John Hughes for the soundtrack of his new film, The Breakfast Club.  And here's where we finally encounter "Don't You (Forget About Me)."
Forsey wrote the song with The Fixx in mind, a group that was quite hot at the time.  He presented the song to guitarist Cy Curnin who politely listened and then rejected it.  From there, he peddled it to Bryan Ferrry who was moving away form Roxy Music.  Again, Forsey received a "thanks but no thanks."  He called up Billy Idol, but he didn't hear any hit potential and also passed.
With time running out, the song ended up in front of Simple Minds.  They'd just come off the rather successful Sparkle in the Rain album and were looking to stretch their synthpop sound into more rocky territory.  Flush with new confidence, the band wasn't exactly pleased when their record company suggested that they record a song written by a former disco boy for the soundtrack of a Yank film.  They told everyone concerned to get stuffed.
But A&M Records was insistent.  "Look, lads," they said, "This Hughes character is a big deal in America. Millions of young Yanks went to see his last film, Sixteen Candles.  I know they only released five songs on an official soundtrack, but the movie itself featured plenty of UK music.  The Specials.  Nick Heyward.  The Vapors.  Billy Idol.  General Public.  Kajagoogoo.  Paul Young.  And Bowie.  You want to be associated with a movie director that likes Bowie, don't you?  And the studio promises that this new one will get the deluxe soundtrack treatment."
With a sigh–and dragging singer Jim Kerr kicking and screaming–Simple Minds retired to a studio in North London, quickly re-arranged the Forsey demo and laid down a recording, a process which took all of three hours.  Obligations to their label fulfilled, they forgot about the song and went to work on their new album, Once Upon a Time.
But then a funny thing happened.  When The Breakfast Club was released on February 15, it became a hit at the box office, debuting at #3, losing out to Beverly Hills Cop with Eddie Murphy and Witness with Harrison Ford.  
And true to their word, the producers issued a ten-song soundtrack.  Frankly, though, it wasn't very good.  While Simple Minds occupied track one, the rest of the album was pretty forgettable, unless you remember Karla DeVito (a Meat Loaf associate), EG Daily and Wang Chung.
But "Don't You" was another matter.  It was released as a single and quickly shot up the charts, reaching #7 in the UK.  But the real story was in America.  
That's where the song shot to #1 on the US Hot 100 and #1 on the Top Rock Tracks chart where it stayed for three weeks. And despite the boring nature of the rest of the sountrack, it reached #17 in the album charts.  
The song also hit #1 in Canada and The Netherlands.  It was a #2 hit in Italy and Belgium.  I reached #3 in Ireland and New Zealand, #4 in Germany and #6 in Australia.  This throwaway track became Simple Minds' biggest-ever hit.
But here's the thing:  Simple Minds continued to HATE the song.  I spoke to drummer Mel Gaynor about the song backstage after a show in the middle 80s.  He wasn't interested in that line of questioning and quickly changed the subject.They never included it on that next album, Once Upon a Time, and didn't ask for it to be included on any official Simple Minds release until a greatest hits collection in 1992.
For the rest of the world, however, "Don't You" has become an 80s classic and has been covered as a metal song (Life of Agony), ska-punk (New Found Glory) and jazz (er, Molly Ringwald).
Billy Idol later felt bad about passing on the song, which is why he recorded it for a greatest hits collection.  Makes you wonder what might have happened had he grabbed the song in the first place–and what would have happened to Simple Minds without it.
Bonus note:  The most familiar version of the song is the 7-inch single which runs 4:23.  A longer version running over 7 minutes and issued as a 12-inch single is generally assumed to be an extended remix. But it's not.
The 12-inch is the original recording and the 7-inch is an edit of what happened during that three-hour recording session in North London.