If You Dream of Speakers, Look at These Ultra-Expensive MONSTERS
The other day, I posted my wistful look back on growing up in the Age of Stereos and the days when so many people spent sizeable chunks of their disposable income on speaker systems. In response to that, Larry–perhaps trying to poke my speaker jones with a stick–sent a link to HigherHiFi, which…well, let's just say that it's not a site for mere mortals.
If you still have money left over from filling your garage with Ferrari FXX's, furnishing your Orchard Road penthouse in Singapore with rare art and buying a stable full of unicorns, you might want to look at some of these speaker systems.
Audionote AN-E-Sogon:  $240,000 USD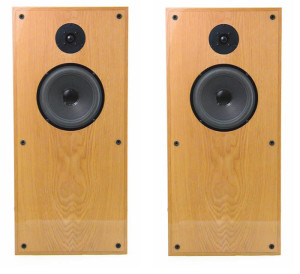 Wait: bookshelf speakers that cost nearly a quarter million dollars?  Is..is that an 8-inch woofer?
Goldmund Epilogue:  $268,300 USD

I can tell right now that my wife would not tolerate something that looked like this.
Genesis Dragon:  $360,000 USD

Four towers with two amps and original wood crates that promise "huge sound and lifelike presentation." I should hope so.
Titan II Signature:  $510,000 USD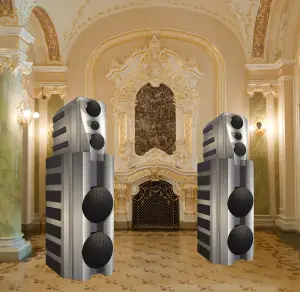 For the price of a Lamborgh. Aventador (okay, a hundred grand more), you can own these beauties which "employs technology derived from advanced tactical fighter plane design, nuclear reactor containment construction and atomic submarine radar jamming." Sold.
The Opulence:  $1,111,111 USD
That's right: a set of speakers that sell for well north of a million dollars. Then again, this series is limited to just ten sets with each one signed by the designer.
And finally, if you still have money left over, you can order this stereo system.
Speakers:  $1,500,000
Amplification: $204,000
Speaker wire: $340,000 (NOT a typo)
A tuner (a f**kin' RADIO): $10,000
Add in various other components and you end up with a total cost of $2,284,000. Read the specs here.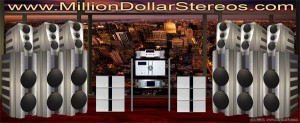 Thanks, Larry. You've ruined everything.