Dude Sues Ex-Girlfriend When She Wouldn't Give Back His Records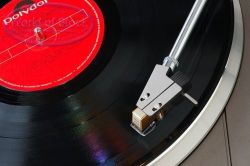 David Carbines and Cora Spaans were an item for a while.  The happy couple ran an art and rare record shop in Worthing in the UK and everything seemed fine.  Until it wasn't.
Carbines, 32, and Spaans, 43, broke up.  And it was messy.
Last year, Cora made a legally-binding promise not to screw with any of Carbines' stuff in the apartment they once shared.  Carbines says he's made numerous attempts to remove his possessions, including some 7,000 records.  No luck.
Back in March, Carbines went to court in an effort to have Cora thrown in jail for breaking that legal promise. But a judge threw out the case when he said he believed Cora when she said he had no more of Carbines' stuff, including his records.
Now Carbines is back in court with fresh evidence saying that Cora still has his records and that he deserves to have them back.  And that super-rare version of The White Album had better still be there.