EAGLES OF DEATH METAL CAUGHT IN PARIS TERRORIST ATTACK
In what appears to be coordinated near-simultaneous attacks at no fewer than six targets across Paris Friday evening ("Kalishnakov and grenade attacks"), at least 40  60 160 people have been killed. This is the worst attack on a Western city since 9/11 and the worst Paris has endured since WW II.
The dead include the results of some terrible, terrible carnage at an Eagles of Death Metal show at a venue called Bataclan. The attacks began around 9 pm Paris time on Friday. The Bataclan is about 300 metres from the offices of Charlie Hebdo which was the target of a terrorist attack back in January.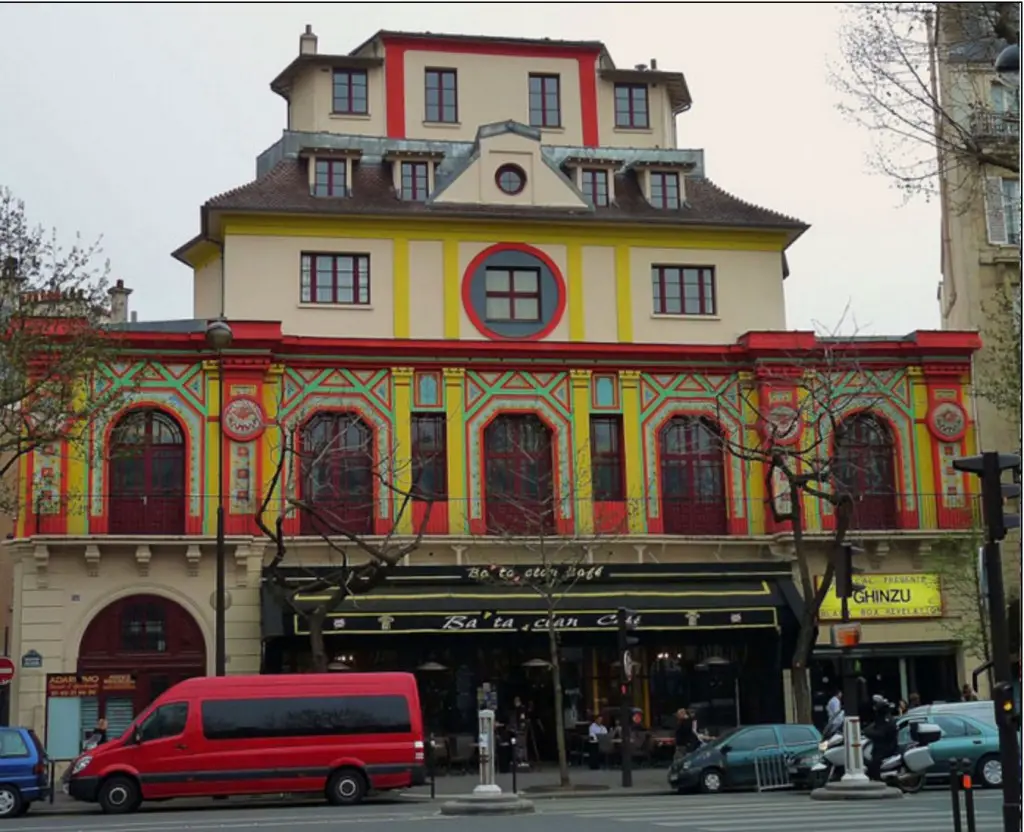 The band were about 30 minutes into the first show of their 25-date Zipper Down tour and some 1,500 people were the theatre. They were in the middle of the song "Kiss the Devil" when the terrorists strode in through a back entrance and began firing at members of the crowd. Witnesses say that some people tried to fight back although they were totally unarmed.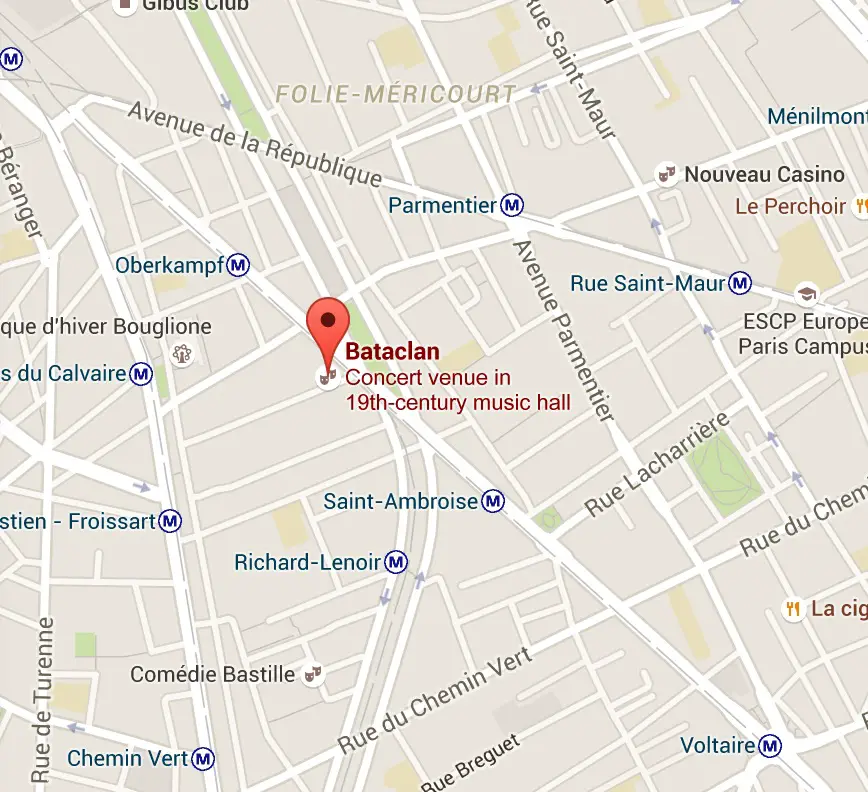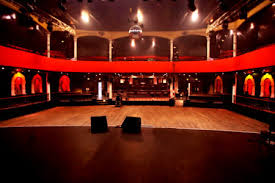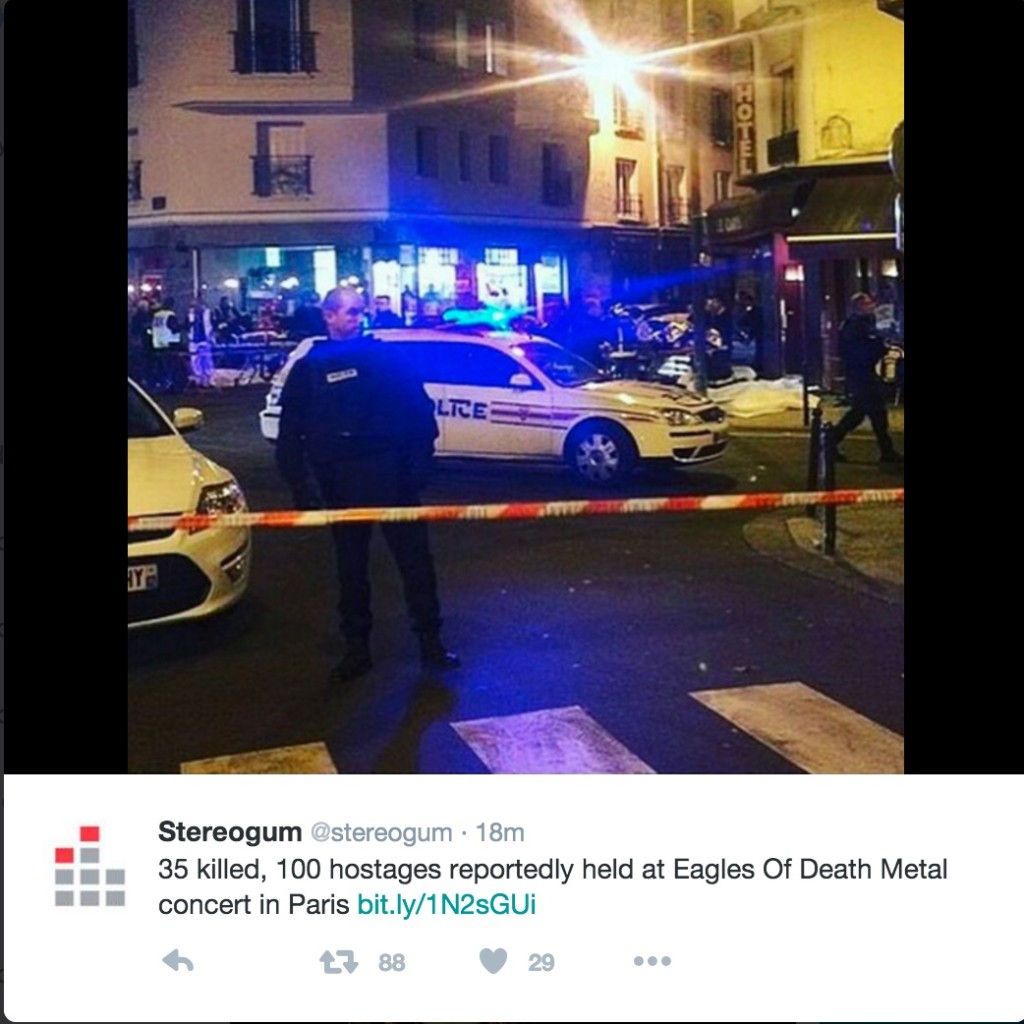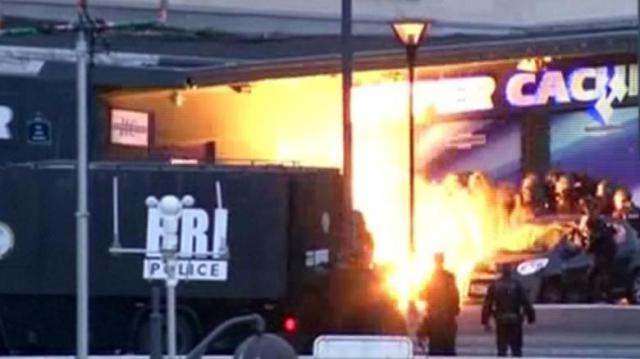 Witnesses say between six and eight three four unmasked attackers wearing flak jackets calmly walked into the theatre with pump-action shotguns and AK-47s, apparently after shooting up a nearby restaurant (that is unconfirmed). They reportedly shouted "This is for Syria!" and "Allah Akbar!" before opening fire. Another was heard to say "We are stronger than the French!" (This is disputed by other witnesses.)
From The Daily Mail:
Benjamin Cazenoves, who posted on Facebook he was a seriously injured hostage inside the Paris theatre, described how the terrorists were slaughtering 'everyone one by one'. Cazenoves was one of at least 100 people held captive during a rock concert, wrote on social media: 'I'm still at the Bataclan. 1th floor. Hurt Bad! There are survivors inside. They are cutting down all the world. One by one.' One hostage who escaped the theatre said the hostages were yelling about Syria. According to a woman in a nearby restaurant where shots first broke out, a gunman shouted 'Allah Akbar' (God is great in Arabic) before firing.
Another report from The Telegraph:
Yasmin, inside the Bataclan, told BFM television: "I saw two guys. The biggest one said: 'What are you doing in Syria? You're going to pay now.'
"Then he opened fire.
"I saw bodies falling all around me. I was shot in the foot. It was carnage. I've never seen so many dead people all around," she said, sobbing.
Canal Plus also reports that one of the attackers "exploded himself in front of the crowd."
The firing inside the venue continued for at least ten minutes. The gunmen stopped to reload three or four times.
Dozens of people were able to escape by climbing onto the roof. From The Telegraph:
Frederic Nowak, who was at the Eagles Of Death concert with his 23-year-old son, told the Telegraph that he was one of them.
"It was about 30 minutes into the concert when I saw two men firing into the crowd with machine guns. I at first hid behind a speaker. The men were firing wildly into the crowd and even at people lying on the ground.
Then I followed some people who were running out through a door to the right of the stage. It led to stairs but all the doors off the stairs were locked. We were stuck there for about ten minutes. There were thirty or forty people there.
Then we went further up the stairs and arrived at the roof. We got out through a window and we saw a man whose apartment was in the building next door waving to us.
We made out way over the rooftop and he let us in through his attic window. We stayed there until we heard the past police raiding the venue a while later."
Mr Kowak said he got a good look at just one of the shooters. He said he was young, probably in his 20s, and dressed casually.
UPDATE at 6:20pm: Reports say that hostages inside the venue are being shot one by one. Gunshots can be heard on live TV. (Via Fox News)
UPDATE at 6:27 pm ET:  Five explosions have been heard at the Bataclan concert hall.
UPDATE at 6:29 pm ET: There is now a police assault underway at the concert hall.
UPDATE at 6:41 pm ET: One witness says that the scene inside was "carnage" and a "war zone."
UPDATE at 6:48 pm ET: There has been an arrest at Bataclan. The person taken into custody reportedly said "I am from ISIS." "I am Syrian. I was here with two others. We were recruited by ISIS. This is essentially an ISIS mission."
UPDATE at 6:51 pm ET: Twelve people have just been rescued from Bataclan. The police raid continues.
UPDATE at 6:55 pm ET: The assault is over. Two (three?) gunmen have been killed.
UPDATE at 7:00 pm ET: French borders are closed. A state of emergency has been declared across France. The military is in control of the nation. It's martial law.
UPDATE at 7:17 pm ET: Canal Plus and AFP report that at least 100 people are dead inside Bataclan. They seemed to have been killed by bullets and grenades.
UPDATE at 7:39 pm ET: Police say 118 people are dead inside the Bataclan.
UPDATE at 8:09 pm ET: Death toll inside the Bataclan now at 120. "Dozens" of ambulance said to be headed to the scene.
UPDATE AT 9:07 pm ET: MSNBC reports that the Bataclan gunmen may have detonated suicide belts when the police stormed the venue.French president arrives at the concert hall.
UPDATE at 9:16 pm ET:  MSNBC producer reportedly heard from a manager of Eagle of Death that one of the band members died in the attack. This is unconfirmed. Keep in mind that the brother of drummer Julian Dorio called CNN to report that everyone was safe.
UPDATE at 9:33 pm ET: Reports say all band members safe but not all members of the crew have been accounted for.
UPDATE at 9:44 pm ET: Paris police source says that all attackers are dead.
UPDATE at 10:03 pm ET: Four gunmen attacked the Bataclan, all of whom were killed when the police stormed the venue. Three activated their explosive belts. The fourth was also wearing a belt but was hit by police fire and his belt blew up as he fell.
UPDATE at 10:05 pm ET: French police now put the Bataclan death toll at 112.
UPDATE at 10:22 ET: MSNBC now says that all members of Eagles of Death Metal are safe. This report comes from band management.
French president Francois Hollande arrives at Bataclan.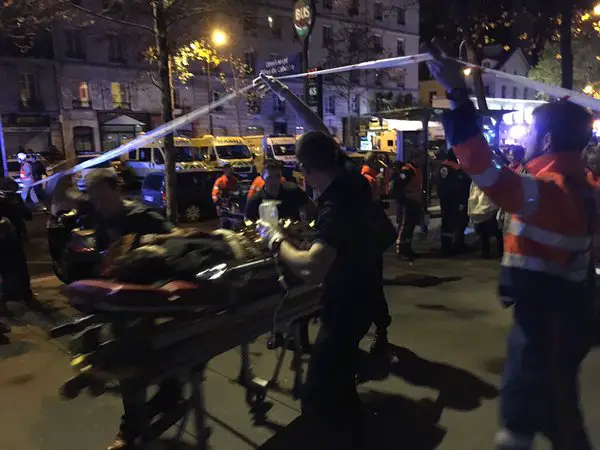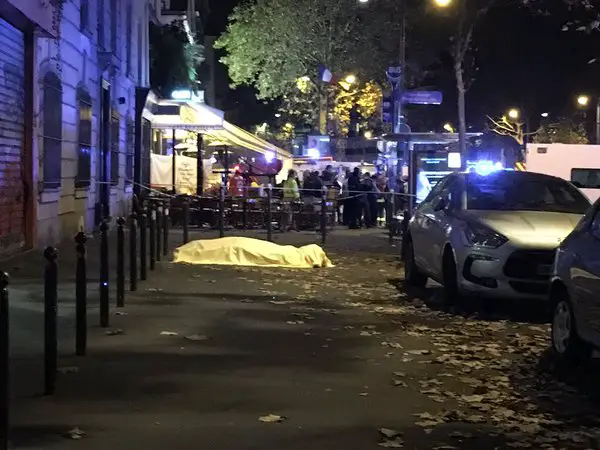 The band was apparently able to get out of the venue to get out via a backstage before the carnage really began. We're still waiting for 100% confirmation that the band and crew are okay.  UPDATE: Jared Followill of King of Leon say all band members are safe. The French band Red Lemons says the same.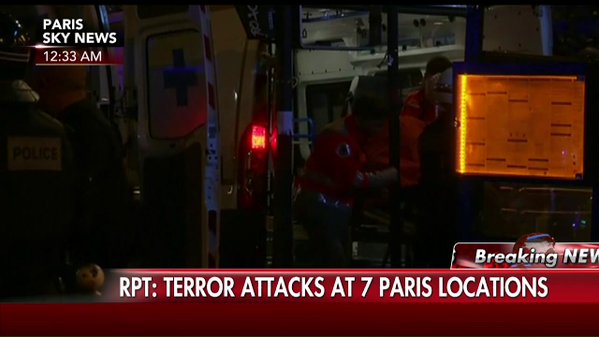 At this point, there is no claim of responsibility although suspicions lie with Al-Qaeda and/or ISIS.
Follow tweets on the situation here. Sky News is following the situation here. Eagles of Death Metal people are using the band's Facebook page to push updates.
U2 (they're safe and in lockdown) was scheduled to play two nights in Paris starting tomorrow night at the AccorHotels Arena (three miles from the Batalcan) which is a co-production with HBO. They will no doubt be cancelled. UPDATE: They have been cancelled. Here's the Billboard story.
The Deftones were scheduled to play Batalcan Saturday night.
Al Gore was hosting a series of concerts around the Eiffel Tower. They've been cancelled.
More pictures can be found here and here.
It took minutes for the Wikipedia page on Bataclan to be updated.
This is a breaking story. More details will be added as they become available.