Ed the Sock Declares War on Ontario Idiocracy
Guess who's back?
If you can remember a time when Eminem videos like "Without Me" played continuously on something called MuchMusic, then you're probably familiar with a potty-mouthed puppet known as Ed the Sock.
For a good chunk of the Nineties into the 2000s ("way more than a couple of years dude", as he was quick to point out to me), there was no bigger personality on Canadian television with a hand stuck up his backside. Take THAT, Casey from Mr. Dressup! Ed's razor-sharp wit and tell it like it is attitude made him a social superstar in an era before camera phones gave digital dummies the idea they can get rich quick on YouTube or Instagram. That's kind of the premise behind his new War on Stupid comeback tour with longtime partner in crime and comedy Liana K, AKA the "Red" in Ed & Red's Night Party.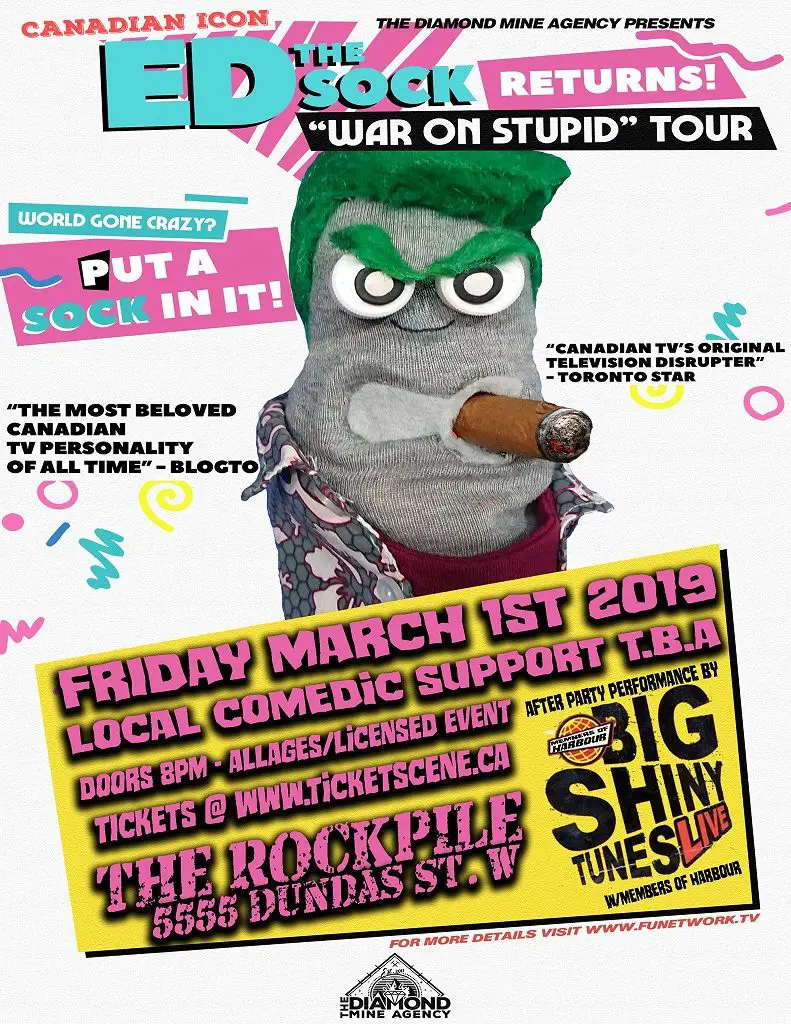 After a successful dry run out west, the unorthodox double act are bringing their show to eight Ontario cities starting in Doug Ford's backyard of Etobicoke on Friday March 1st. Lord knows we need Ed's brand of irreverent humour now more than ever given the buffoon who's in charge of our country's most populous province. While they've specifically dared the Pimp My Ride-watching Premier to attend any of their events, the War on Stupid is much, much more than a political roasting. "It's everything under the sun", the still-snappy argyle icon elaborated. "From the smallest, stupidest details we don't even notice any more to the bigger issues. Stuff that happens on the Internet, to fake news, snowflakes, the alt-right, and all of these things that we need to deal with, we deal with it (and get real in Liana K's words), right or left we're going to spill your Kool-Aid." And by STUPID, Ed makes sure to emphasize they're referring to "people who happily operate beneath their intellectual capacity. They KNOW they're acting like morons, but are having too good a time doing it. People need to start engaging their higher brain functions again." Ed's the guy to bring clarity to the masses; just don't be racist towards his ethnic sock background. That $#!% was never cool no matter what day and age we're living in.
I'd say Liana K represents Ed's softer side, but the brainy video game journalist/cosplayer is more likely than anyone to bite her wooly companion's head off should he get too out of line. She probably put what they're trying to accomplish best by saying, "as comedians you do go over the line sometimes, but I always believe that outrage and offense is the first step towards social progress and social justice, because you're asking questions. You're knocking people out of their comfort zone," giving examples as to how their old TV gig where she worked behind the scenes before joining Ed on camera treated all sorts of marginalized people back in the day like people instead of objectified stuff.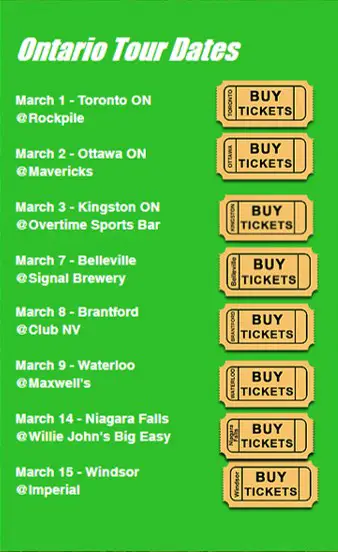 These live shows are guaranteed to be a unique experience from city to city, totally dependent on the audience that comes out combined with what's going on at the moment in his rapidly evolving world. Free-form improvisation as Ed put it, like comedy jazz! When I had a chance to talk with the power couple, Toronto was just learning the identity of the brain-dead twit who threw a chair from a condo balcony onto a busy highway below…a news item that seems so passé now. Don't expect any antiquated and irrelevant "What's up with that?"-type material from Ed & Red.
So, have you been sufficiently tempted to want to see Ed & Red in person? Wanna go on them? I have two tickets to give away to any of their upcoming Ontario shows IF you can successfully name Ed's former Night Party co-host who was also happened to be an announcer for 102.1 The Edge. Leave your guesses in the comments below along with which city you want to face the wrath of the War on Stupid, and I'll randomly choose a winner from the correct answers.
And if this isn't enough, Ed & Red also put together a playlist of pretty awesome tunes to pump themselves up while on the road. (Or is that "get stuffed" in Ed's case?)