UPDATE on Eddie Van Halen's health problems: Is it throat cancer? This doesn't sound good.
Earlier this week, stories began to emerge about a hiatus in any Van Halen plans because Eddie is not well. It seemed that we were on the verge of a big VH reunion, something that quickly and quietly fell apart.
David Lee Roth had this cryptic statement: "Van Halen isn't gonna be coming back in the fashion that you know. And that being said, Eddie's [Van Halen] got his own story to tell. [It's] not mine to tell it." He also went on to say that "Van Halen is finished."
Former VH bass player Michael Anthony hasn't said much, although he's responded to rumours of Eddie's ill health.
Then guitarist Steve Lukather mentioned in a podcast that ""I look you right in the eye and say, listen, I've been in contact with Ed. We text all the time. I really can't say much, man. I don't wanna say anything."
UPDATE: TMZ reports that Eddie has been quietly flying back and forth to Germany for the past five years to for treatment for throat cancer. One theory is that this is the result of his former habit of holding a metal guitar pick in his mouth that somehow compromised varies bits of oral tissue.
In 2015 he told Billboard (via the Daily Mail): "I used metal picks – they're brass and copper – which I always held in my mouth, in the exact place where I got the tongue cancer.
"Plus, I basically live in a recording studio that's filled with electromagnetic energy. So that's one theory. I mean, I was smoking and doing a lot of drugs and a lot of everything. But at the same time, my lungs are totally clear. This is just my own theory, but the doctors say it's possible."
He's been making these trips so doctors could scrape away the cancerous cells and blast others with radiation.
A few websites have posted recent pictures of Eddie. This shot was posted by his wife Janie with the note "Within you is the power to rise above any situation or struggle, and transform into the Brightest, Strongest version of you EVER!"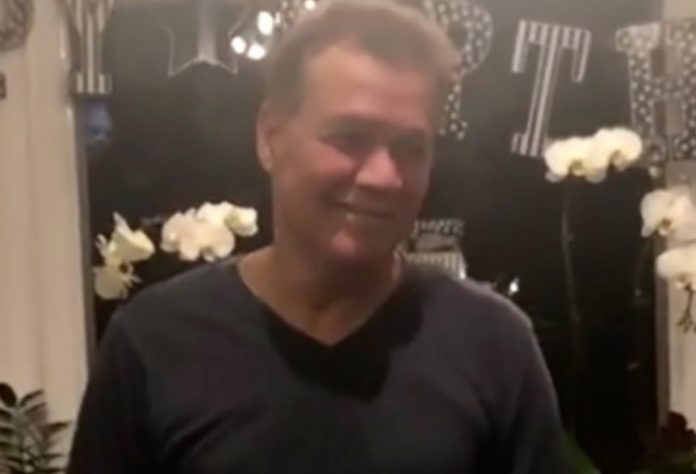 Eddie has had other health problems over the last couple of the decades.
Remember that Eddie had to deal with tongue cancer back in 2000, a battle that nearly killed him and saw one-third of his tongue removed. He's also had repeated issues with his hips thanks to something called vascular necrosis, resulting in hip replacement surgery in November 1999.. Then there was the emergency surgery in 2012 over a bad case of diverticulitis.
Something's definitely going on here. However, if we go back to the TMZ report, it's said that Eddie is doing okay "at least on the surface."
This post will be be updated as new information becomes available.