Eddie Vedder Wants eddievedder.com Back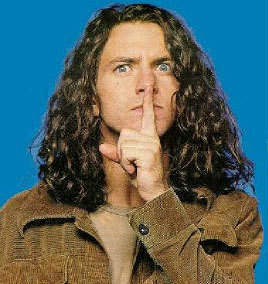 I would love to own www.alancross.com, but somewhere in England, a guy with whom I share a name already has it. And despite some very nice emails from me, he won't give it up. In fact, he won't even answer my emails.
If he was using the address, I'd understand–but he's not. There's just the image of an English flag blowing in the wind. It's been that way for years. Literally.
You'd think he'd want to sell the domain to me given that he's probably getting a lot of unsolicited email that's intended for me. Go figure.
This is why I feel a particular kinship with Eddie Vedder who wants his Internet name back. Pearl Jam owned www.eddievedder.com until late 2010. But then I'm guessing it wasn't renewed and someone who goes by the name "hobeyb" pounced. The domain is now listed for sale for $18,400.
So what can Eddie do? His people–and Eddie does have people–have filed a complaint with the World Intelletual Property Association to get his domain back. "Eddie Vedder" is a trademarked term which means whoever has it now could be infringing on that trademark.
It all depends on what WIPO says. We'll see.
Meanwhile, if you're the Alan Cross in England with the .com address, please drop me a line. Let's talk, okay?
(Fusible via Hennemusic)