What Elvis Songs are Still Big on the King's 80th Birthday?
Elvis Aaron Presley was born this day in 1935, which, would make this The King's 80th birthday.  Most of us (me included) find the whole Elvis thing to be pretty kitschy (I blame the estate and Graceland for that), but there are still millions and millions of Presley fans out there.  And his influence is still felt everywhere.
The Echo Nest, the big data collection brains within Spotify, has this new web app that will connect any artist you enter in the search box to Elvis. They also have "The Elvisulization," which is a cool infographic that shows how The King influenced those who came later.  (Click on the image to take a look.)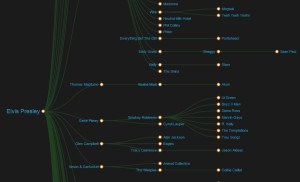 Spotify says these are the most-streamed Elvis songs:
Most Streamed Elvis tracks in Canada 
Blue Christmas
Suspicious Minds
Can't Help Falling in Love
Jailhouse Rock
Here Comes Santa Claus
A Little Less Conversation (JXL Remix)
Hound Dog
In the Ghetto
Burning Love
Always on My Mind
Most streamed Elvis tracks globally
Suspicious Minds
Jailhouse Rock
In the Ghetto
Can't Help Falling in Love
Blue Christmas
Always on My Mind
A Little Less Conversation
Hound Dog
Burning Love
Blue Suede Shoes
Countries with the biggest Elvis fans
Chile
Brazil
Argentina
Netherlands
Iceland
Switzerland
Mexico
Italy
Australia
El Salvador
Feel like some Elvis today? Try this.