Embarrassed By Your Xmas Carolling? There's an App for That.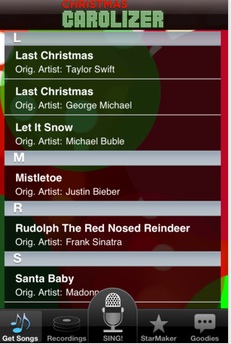 Well, of course there is. And yes, Auto-tune is involved.
It's called the Christmas Carolizer, a 99 cent app that turns any off-key, off-beat, off-kilter caroller into a pro worthy of a spot in the choir. Or into T-Pain.
It is described thusly:
Sing and record your very own versions of Christmas songs using genuine Antares Auto-Tune to sound like a star, then SHARE them via Facebook, Twitter and Email. Christmas Carolizer lets you create personalized eCards by tricking out your photo with guitars, microphones, Santa hats, hairstyles, bling and holiday icons. Create as many recordings as you want and completely customize your song, message and photos.
Yes, this is a bad, bad idea, as is any Auto-tune endeavour. But it's either this or hideous versions of "In Excelsis Deo." I'm thinking of the oft-butchered "gloria" bit in the chorus.