Is Emo Poised for a Comeback Thanks to Generation Z?
Full disclosure: I hate emo. I always have. Bands like Dashboard Confessional, My Chemical Romance, Senses Fail, Black Veil Brides and Pierce the Veil (not to mention, Fall Out Boy, Panic! At the Disco and Paramore) send shivers of revulsion throughout my body. I find them too whiney, too histrionic, too overblown to take seriously.
This is my favourite t-shirt.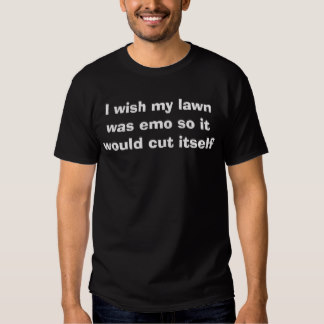 Cruel, I know, but it still makes me laugh. (Please. No email/comments.)
It seemed for a while that emo was going to take over the world. There was a period around the mid-oughts when every alt-rock band that was being hyped were emo or were touted as having emo tendencies. Fortunately, though, the scene was clubbed to death like a bunch of baby seals and emo disappeared. Or did it?
If you've been reading my opinions on the current state of alt-rock, the emo attitude is very much alive, although wrapped in a less screamy package. All we really need for an emo revival is to substitute the ukuleles and banjos for loud guitars. The Daily Beast examines this further.
The eyeliner. The bangs. Fall Out Boy. It's all back and coming to a concert venue near you.
Growing up in rural New York, I saw my hometown on the evening news exactly twice.
Once was when our basketball team won the state tournament for small schools. The other time was when our school district was consumed by a vicious, sectarian, MySpace-based feud between students who dabbled in the emo subculture, and a group of students who opposed the emo subculture: the so-called "Emo Resistance Program."
For a brief period—after the Emo Resistance Program uploaded a picture of a pistol with the caption "Help Prevent Emos In America" to its MySpace page, and cops got involved, and the nearest city's NBC affiliate stationed its news van outside the high school—my town was a scene in an evening special report on the dangers of emo.
This was Fall 2006, when emo was collapsing under the weight of its own absurdity. A subgenre of introspective punk rock with origins in the 1980s hardcore scene, emo had erupted from its underground roots. Suddenly mainstream, emo was now a burgeoning market of Top 40 hits, rural teens with floppy black hair, and television specials on dangerous teen trends. The decades-old genre wore itself to exhaustion in months. The bands broke up, the fans moved on.
But ten years after emo wreaked havoc on my hometown, the genre is making a remarkable return. America's emo kids—those profiled in alarmist news reports—are fine. They've grown up, graduated, landed jobs, and are now reviving their favorite teenage phase.
Alex Badanes and Ethan Maccoby, both 26, spent their teen years in the U.K., waiting for American emo bands to visit on tour.
"We kind of grew up going to concerts every weekend," Badanes told the Daily Beast. "All the American bands would come and we just really got into the emo and pop-punk scene from like 12 years old."
He and Maccoby are the founders of Emo Night Brooklyn, a wildly successful emo-themed party series launched early last year. This weekend, the pair is taking Emo Night Brooklyn to London, their first international show in an expansion tour that will include shows in Toronto, Las Vegas, and Manhattan.
Oh, gawd. Please, no. Keep reading.