Enjoy the Silence. No, Really. (And This Has Nothing to Do with Depeche Mode)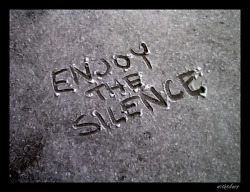 Sometimes you need everything to be quiet just so our brains can stop racing and we can collect our thoughts. Usually this means turning off the TV and the stereo so we can enjoy a little bit of silence.
But maybe we've been going at this all wrong. Maybe we need to put on a CD.
St. Peter's Church in East Blatchington, East Sussex, have issued a CD. It's nothing but the silence captured in the empty 12th century church.
To be fair, the church is upfront about this being a fund- and awareness-raiser for the congregation. They don't expect anyone to actually sit through this thing–although they do claim that some of those who have purchased it seem to enjoy the calm that it engenders.
You can add this to your collection of "silent" recordings, just as the iTunes edition of John Cage's "4′ 33″" (yours for 99 cents) and a 2010 collection of two-minute silences issued by the British Legion.
(Via Mike and the BBC)