We're About to Enter the Third Era of Paid Music Streaming
I never miss a newsletter of Music Industry Blog because each inevitably comes with some insightful analysis, especially when it comes to the issue of streaming. Yesterday's newsletter summarize the era of streaming like this.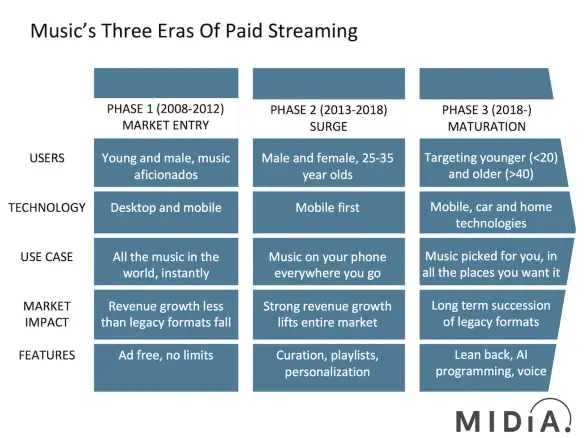 The article starts like this:
Streaming has driven such a revenue renaissance within the major record labels that the financial markets are now falling over themselves to work out where they can invest in the market, and indeed whether they should. For large financial institutions, there are not many companies that are big enough to be worth investing in. Vivendi is pretty much it. Some have positions in Sony, but as the music division is a smaller part of Sony's overall business than it is for Vivendi, a position in Sony is only an indirect position in the music business.
The other bet, of course, is Spotify. With demand exceeding supply these look like good times to be on the sell side of music stocks, though it is worth noting that some hedge funds are also exploring betting against both Vivendi and Spotify. Nonetheless, the likely outcome is that there will be a flurry of activity around big music company stocks, with streaming as the fuel in the engine. With this in mind, it is worth contextualizing where streaming is right now and where it fits within the longer term evolution of the market.
You should read the rest. I just wish the writer wasn't so stingy with commas. You'll see what I mean.