We're Entering the "Fourth Phase" of Digital Music Consumption. Here's What That Means.
Mark Mulligan of Music Industry Blog sees our evolution as digital music consumers going this way:
The history of digital music has evolved in roughly 5 year chapters, each defined by a key service and the problem it solved:
Phase 1: Napster gave consumers frictionless access to all the music in the world
Phase 2: iTunes made the paid download make sense
Phase 3: Spotify fixed buffering and gave frictionless (legal) access to all the music in the world (well most of it anyway)
Phase 4: Beats, Blinkbox, Bloom.FM, MusicQubed are all candidates for defining the next phase. Spotify gave access to 25 million songs and now these services are each doing at least one of a) trying to make sense of that 25 million via curation and b) making music subscriptions affordable for the mainstream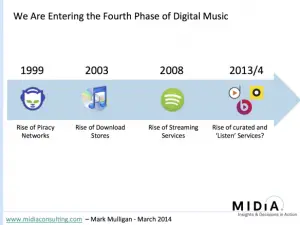 The whole article is worth reading.  Get it here.