We're Entering the "Fourth Phase of Digital Music." What Does That Mean, Exactly?
Mark Mulligan of Music Industry Blog recently gave a keynote at The Future Music Forum in Barcelona. This was one of the images in his presentation.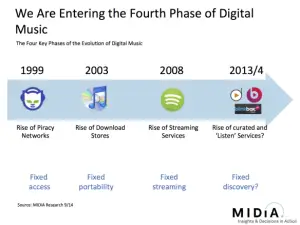 Here's what he writes today:
Streaming is turning years of music business accepted wisdom on its head but did not arrive unannounced, it is just one chapter in the evolution of digital music. Each of the four phases of digital music have been shaped by technologies that solved problems. Now we are entering the fourth phase, bringing meaning to the 30 million tracks Spotify et al gave us access to. This might look like a simple honing of the model but it is every bit as important as the previous three stages. 30 million tracks is a meaningless quantity of music. It would take three lifetimes to listen to every track once. There is so much choice that there is effectively no choice at all. This is the Tyranny of Choice.
Continue reading and check out more images from his presentation here.