Even MORE Awesome and Cool Stuff About Drums
As a drummer myself, I'm a total sucker for stories like this.
Item 1: The 14 Drum Machines That Shaped Modern Music
Here's a great history of the boxes that changed the way musicians keep the beat. The source is FactMag.
The earliest example of what could be considered a drum machine was the Rhythmicon, a device developed by Russian inventor Leon Theremin at the request of American composer Henry Cowell. Cowell wanted to use modern technology to do something that a human couldn't do, in this case transpose multiples of a wavelength into beats, resulting in a device that created alien polyrhythmic pulses. Wood would probably have been horrified by it.
What the Rhythmicon did have in common with later drum machines was character unique to itself. Though the drum machine was created for practical reasons, a series of technological developments and happy accidents helped it to become a device that people used as passionately as a piano and as innovatively as the electric guitar. Whether Wood liked it or not, by 2004 it had created an entirely new musical language.
What follows is the story of 14 of the most important drum machines to shape that dialect, from the engineers that made them to the artists that used them.
For example, here's the Wurlitzer SideMan drum machine from the 1950s which operated on vacuum tubes.
Item 2: Terry Bozzio's Insanely Large Drumkit
Terry Bozzio used to play for Frank Zappa before forming Missing Persons with his (now ex-) wife Dale. Since then, his kit has been getting bigger and bigger and bigger.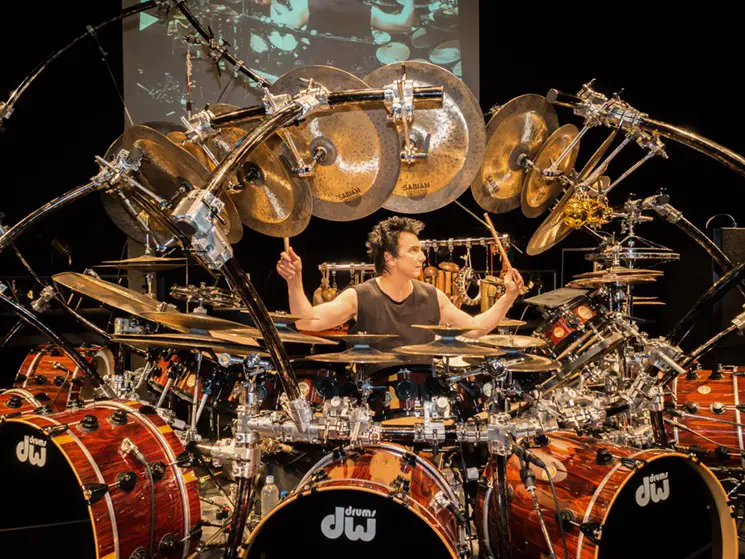 Much of Terry's kit is carefully tuned, too, so not only can be play rhythmically, he can also play melodically. The LA Times tries to explain what the f*ck is going on here.