Everyone Needs Their Own Soundboard, Right? Now You Can Have One!
We've all seen shows and movies showing radio DJs pressing buttons and getting out sound effects, music clips and movie moments during their shows. Haven't you always wanted to that at home? You'd be the hit of the party! Or maybe you'd seriously like to use that kind of tool to do a podcast. Well, you might have that chance now.
Soundboard Studio takes your podcast, show or gig to the next level. It's a bulletproof professional soundboard app for instant track playback.
As you might expect from a soundboard app, you can import music tracks or audio files and organise them into a grid of irresistibly-clickable buttons.
You can import any .mp3, .m4a or .wav file directly from the Music app on your device, from your Dropbox account, or you can copy files from any of your favourite apps or services using the share menu on iOS.
Soundboard Studio lets you set individual volume levels for each track, loop tracks, and play multiple tracks simultaneously.
There's no limit to the number of tracks you can have on each of the 4 available boards, there's also no limit to the number of tracks you can have playing simultaneously.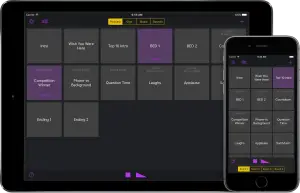 Soundboard Studio is just getting to beta testing and should be out soon.  If you are interested in learning more, go here.