Everything You Ever Wanted to Know About Cassettes
If you're a regular reader of these pages, you'll know that I believe the cassette is a hateful, outdated, obsolete piece of technology that deserves to die. Those who romanticize the cassette were probably not around when that was the only way we could make our music portable.
Yet cassettes endure, albeit as a tiny, tiny, tiny niche within the entire music ecosystem. So far this year, around 6,500 pre-recorded cassettes have been sold in all of Canada. In the US, the number is something like 130,000. So while some blather on about a cassette renaissance, that's clearly wishful thinking. Or as Donald Trump would say, fake news.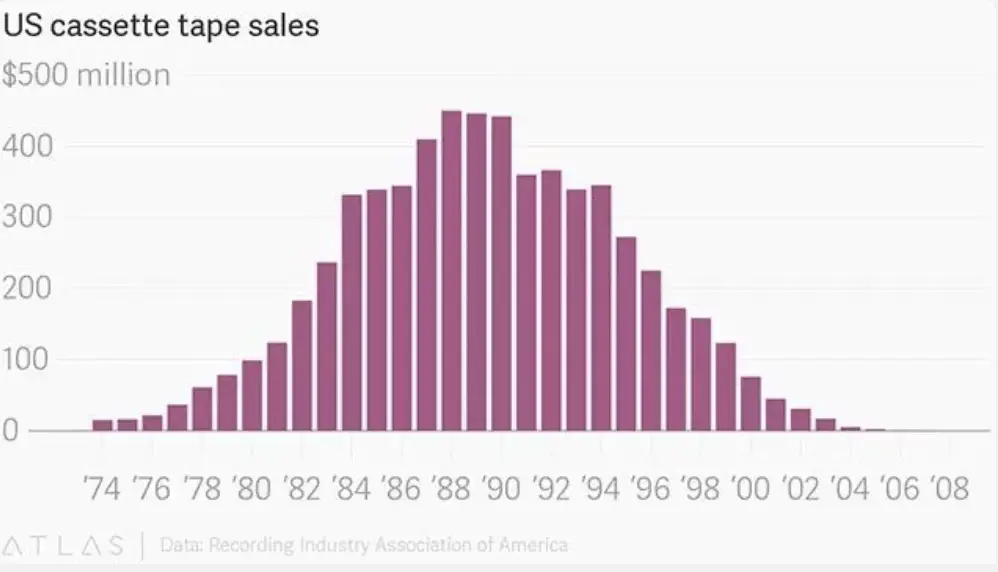 Quartz (via Peter) has taken a deep dive into cassette culture and begins by pointing out that there's an acute shortage of magnetic tape.
The shortage of magnetic tape is intertwined with the even larger renaissance of vinyl records: Both are surfing the same wave of nostalgia for old recording formats, and the vinyl boom has created a new niche for cassettes. They're cheaper and require less lead time for production.
The Journal reports that a manufacturer called National Audio Company has been managing a dwindling stockpile of tape since most US suppliers shut down. It's restarting production to satisfy demand from musicians like Metallica and Lin-Manuel Miranda, who insisted that "The Hamilton Mixtape" be available as a cassette.
"Tape-making is complicated," the Journal notes. "The process includes a finely calibrated slurry of metallic particles and polyurethane, miles of Mylar, 48 feet of ovens, a small amount of radioactivity and a very precise slicer." You can watch a video about National Audio here.
Read the entire Quartz piece here.