Excerpt from a New Book called New York Rock: How Punk Was Born
If you haven't read Please Kill Me: The Uncensored Oral History of Punk by Leggs McNeil and Gillian McGain, put it on your reading list immediately. Then add New York Punk: From the Rise of the Velvet Underground to the Fall of CBGB, which has just been published by Steve Blush. It's similar to Please Kill Me but with more memories from an often different cast of characters.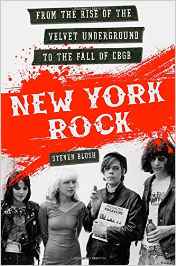 Cuepoint published this excerpt.
TOMMY WYNBRANDT (The Miamis): New York was in bad shape. No one had money. Streets were dirty, subway cars were covered in graffiti, and one going-out-of-business sign after another plastered storefronts. Muggings were everyday occurrences. People sold ratty belongings on the street. It was like an endless loop of Kojak. (2011)
SONNY VINCENT (The Testors): The city was rough: gangs roaming, junkies everywhere. Forty-Second Street was worse than movies portray. The city was in default, the middle class had moved out. Graffiti everywhere, garbage, violence, drug deals on the street. You name it. But it was ours. There was a flourishing music and art scene and cheap rents. (2011)
"Punk" was a negative term picked up from prison slang (for homosexuals), and before that from Shakespeare (describing a trollop as a "taffety punk" in All's Well That Ends Well). In the 50s, "punk" defined a belligerent twerp. Rock critic Lester Bangs used "punk" to describe Iggy Pop's Stooges, and Alan Vega adopted the tag to promote his band Suicide. Punk Magazine plastered posters downtown in 1975 proclaiming, "Punk is Coming!" And people began calling the new acts punk rock.
Keep reading. I've already ordered the book.
On a related note, here's an article on the 10 most legendary gigs held at CBGB.