Explaining a Lifetime: The Best of Queens of the Stone Age
[With a new Queens of the Stone Age album on the horizon, contributor Gilles LeBlanc has this look at the band. – AC]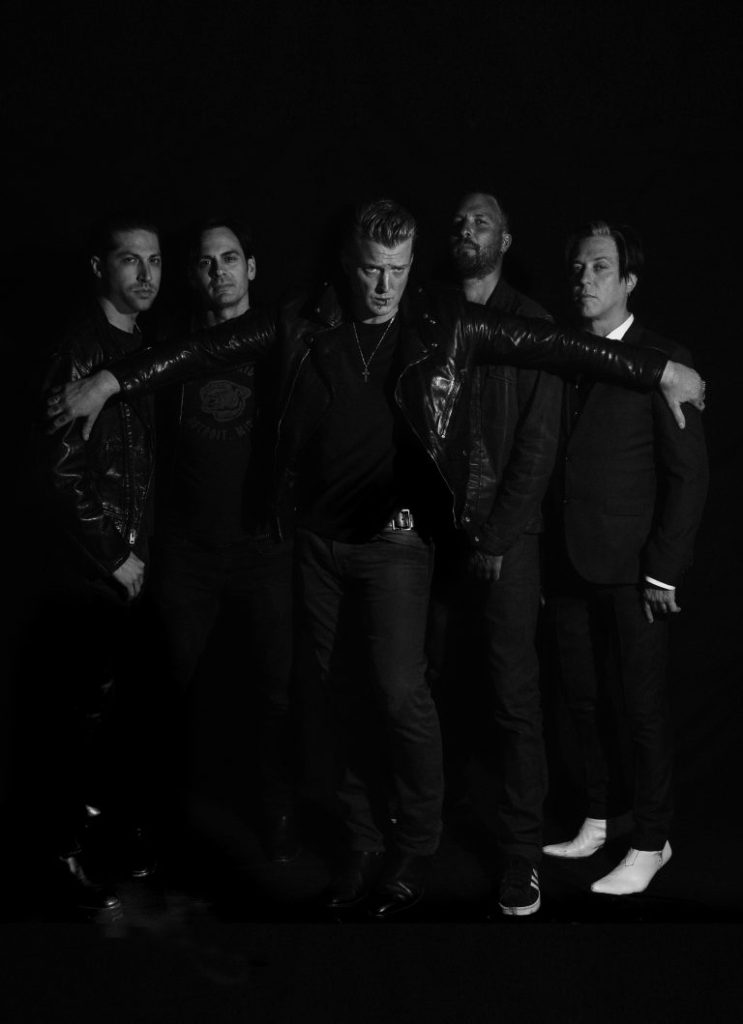 Two years after their last performance together – with tragedies and triumphs aplenty in between – Queens of the Stone Age are finally back. It's felt a hell of a lot longer, hasn't it? While rock monarch Josh Homme never really went away during this time, there seems to be a non-clichéd, vengeful purpose to his main endeavor's comeback, making it clear to the world they are the Best Band Going™ these days.
It's hard to believe sometimes that 1997 was the first time we saw the words "Queens of the Stone Age", part of a split EP with Homme's former group Kyuss. QotSA were literally brought to life Frankenstein-style on the side of an arid, desolate California desert highway, interchanging heaviness of the metal kind with the remnants of grunge. The resulting hybrid was the jolt music desperately needed to get out of its miserable Kurt Cobain-less period…we just weren't completely ready for it yet.
It's not like Queens tried to pussyfoot around the potentially suggestive nature of their early material; songs like the sexually illicit "Regular John", drug-glorifying "Feel Good Hit of the Summer" and downright bizarro "Monsters in the Parasol" took care of that, and then some. And when your second album is titled Rated R, c'mon…
Amidst garage-sounding rock's return to prominence in the early-2000s, QotSA delivered perhaps the most chord-chortling full-length of the time in Songs for the Deaf thanks in a big way to new guitarist Troy Van Leeuwen. "A Song for the Dead" and "Millionaire" are menacing enough to weed out hipsterish bandwagon jumpers, but radio breakthroughs "No One Knows" and "Go with the Flow" set the band on a path towards shaping alternative music in their granite image.
Homme had a falling out with gruff-singing bassist Nick Oliveri that led to the latter's firing. Eventual replacement Mikey Shoes brought more style and swagger without damaging QotSA's reputation in the headbanger community. "Burn the Witch", "Little Sister", "3's & 7's" and "Sick, Sick, Sick" (off of Lullabies to Paralyze and Era Vulgaris, respectively) further cemented their rep as badasses not to be trifled with…even though the sentimentally bluesy "Make It wit Chu" will bring any hardcore fan to tears.
There were whispers going around for awhile that Queens of the Stone Age were all but done as Homme worked on things like producing Arctic Monkeys and Them Crooked Vultures. Despite being anything but "Smooth Sailing" to make, …Like Clockwork may arguably be the best album of the 2010s so far, period. Homme BFF Dave Grohl thrashes the holy hell out of his drums on "My God Is the Sun" (prior to skin beater extraordinaire Jon Theodore joining), and the rest is weird enough in a Stanley Kubrick filmmaking fashion so as to straddle the razor-thin line between widespread acceptance and not selling out.
Along with the instrumentally gifted Dean Fertita, Queens are a complete, fully-functioning unit for the first time in their two-decade history. Now they have Mark Ronson on their team, he of Amy Winehouse and "Uptown Funk" fame who called QotSA "his favo(u)rite rock band ever". Regardless of his pop sheen rub as well as celebrity endorsement, chances are "The Way You Used to Do" will ever be in contention for the phony-baloney title of 2017's Song of the Summer.
What's more important as QotSA gear up for what will no doubt be an intense touring cycle for Villains is that Homme has learned a few lessons. He's no angel, simply one of his generation's biggest talents who has gotten where he is by forcing the rest of the music industry to play by his rules. To take a page from recent collaborator Iggy Pop, Homme still has like 30 more years of music left in him!