"Eyes Free" Siri Coming to Your Car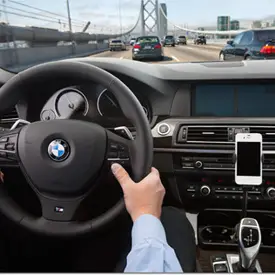 When I drive, I probably spend more time listening to material on iPhone than I do anything else. My car has a reasonably decent connection and interface, but it still leaves much to be desired, especially when I want to access something like podcasts and audio books. That's when it gets fiddly.
I'd probably use Siri more, too, but there's no way for me to do that while I'm driving unless I want to risk a ticket for using a handheld device when I'm supposed to be driving.
But this is going to change. Nine manufacturers– BMW, General Motors, Mercedes, Land Rover, Jaguar, Audi, Toyota, Chrysler and Honda–have signed on with Apple for something called Eyes Free, which will allow drivers to access their iOS devices using Siri. How? With a factory button on the steering wheel.
This means asking Siri to make calls, find music, get maps, add reminders, compose text messages, get calendar information and whatever else Siri can do.
Presumably Siri will also be able to access apps for streaming services. "Siri, launch Slacker and play my alternative channel." Why not? Hell, I'm in. I'd stream a whole lot more stuff in the car if it was easier to access.
So when can we expect to see this in cars? Soon. And how will traditional AM/FM broadcasters respond?
Dammit. My wife and I are buying a Honda this week because the lease on her old vehicle is up at the end of the month. Why can't I have this now?