FamilyBand Concerts: Friendship, community and the music of the Hip
They share a country and a passion for The Tragically Hip. Now Rob Ferreira, Jeremy Hoyle and some friends are taking their collaboration to a new destination: The Horseshoe Tavern.
On February 2, Ferreira, one of the founders of the Courage for Gord Foundation, and Hoyle, lead singer of Buffalo's Strictly Hip, will kick off their new efforts to follow Gord Downie's call to "do something" in the name of reconciliation.
Dubbed the Familyband Benefit Concerts, the first is scheduled for the first Friday in February at the 'Shoe in Toronto. No more than 500 tickets will be available and, since the show's announcement last week, more than 100 tickets have been sold.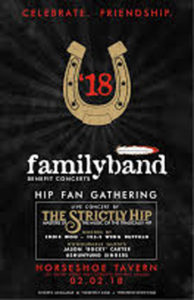 The idea is simple: Honour the Hip, play some great music, bring good people together and shine a light on First Nations people and traditions.
After Downie's death in October after a nearly two-year battle with cancer, Ferriera announced he'd be winding down the Courage for Gord efforts and joining up, in a different capacity, with the Downie Wenjack Fund.
(By the way, Courage for Gord raised well over $100,000 for cancer research and reconciliation efforts between the summer of 2016 and October.)
Hoyle and Ferriera worked together for a series of fundraisers before, during and after the "Man Machine Poem" tour in summer 2016.
"Rob and I are always throwing ideas at each other," Hoyle says. "The idea for FamilyBand was born from those conversations about creating community and understanding through the music we both love. Music heals."
"Jeremy and I kind of started talking about it over the last month or two: how do we build a new brand that features the Hip's music but, at the same time, brings an Indigenous focus to it as well? How do we bring Indigenous content to the Hip's music and vice versa?," Ferriera says. "This whole notion of a family band came together. Certainly the Hip are known as a family band and the notion of family, getting together, so we came up with the brand called FamilyBand Benefit Concerts, where Strictly Hip would tour in different venues and each event would include indigenous content."
The first event will begin with a territory acknowledgment and prayer, given by Jason Rocky Carter, or Bear Standing Tall, followed by the performance of an honour song from a group of Ashunyung singers.
As more dates are added to the FamilyBand Benefit Concert series, it's possible each one will contain similar elements presented by different groups, all with the same interest and efforts at heart.
"The experience will be something very different than the community has seen before," Ferriera says.
But for the first show, almost a year after Strictly Hip played a birthday celebration in Downie's honour at Adelaide Hall as part of a Courage for Gord fundraiser, both Ferriera and Hoyle stress the date is one that Strictly Hip had had booked at the 'Shoe for some time. It just happened to work out that the concert series was ready to launch.
"I'm sure we'll acknowledge the man who brought us all together, respectfully and appropriately," Hoyle says. "The original intention (of the Feb. 2 show) was to reprise last year's birthday celebration. With Gord's passing, I wasn't sure how to proceed with it… or to proceed at all. Rob and I felt like it could be really cool and beautiful to include Indigenous music and musicians."
All proceeds from the concert will go to support the Downie Wenjack Fund.
For more information, go to https://www.facebook.com/familybandtour. Tickets are available now and can be purchased here.