A Fan's Perspective of the 2017 Juno Awards, Part 1
[Emily Plunkett was dispatched to cover the 2017 Juno Awards. Here the first half of  her report. – AC]
It was extremely important I attended the 2017 Juno Awards as a member of the media. As much as it's an excellent exercise for any journalism graduate, I'm no recent graduate. Like any good Millennial, after I graduated five years ago, I took whatever work I could to pay the bills; and that work was department stores. Go figure.  Since then, I haven't had much time or the resources since to really build up a profile – or do anything really.
But as rusty as I would be, I went for it. It wouldn't be my first Junos. My first Junos were in 2012, during my first year of college. I was incredibly interested to see how my experience as a student would vary from my experience as a freelancer, and if I would learn anything new.
Not to mention, without the pressures of school or day job work (thank God for PTO), I would be free as a bird to observe, and be that fly on the wall for those exclusive parts of award shows.  I wanted to see if I could have many of my silly and grandiose ideas come to fruition. I had a lot of them. I've been a music nerd for a very long time, and I grew up in an era when outlets like MuchMusic and Chart Attack made Canadian music award shows look all romantic and on par with anything that the American music industry could produce.
So let's experiment, experience, and observe, shall we?  After all, if you're going to work during vacation, you might as well make it awesome.
—
Observation:  Right off the bat, no matter how glitzy a job like this looks, or how glamourous you want to be, it's remarkably mundane and something will always go embarrassingly wrong.
No word of a lie, as I began typing this out, it was t-minus 12 hours to the main event in Kanata, and I was sitting in a Gatineau ER, getting my eye flushed out. A contact lens got lost when I was trying to take them out after a very, very long day; and after two and a half hours of struggling to peel the sucker off my eyeball at two in the morning, I gave up and sought help. I was supposed to be heading to the Songwriter's Circle at the National Arts Centre for noon, but around the 5 A.M. hour, I began to get a sneaky suspicion that it was not going to happen (it didn't). I got to bed at 8 A.M. for the most un-rockstar reason during a rockstar weekend.  I roughed it and wore contacts again for the main event, but after taking the most careful of consideration into my wardrobe and appearance into the professional environment, my eye was mighty red and puffy, and could be seen clearly under the bright flashes.
But isn't that always the case?  Shortly before my ER visit, I was having dinner with a journalist from Sudbury who had her own visit to the ER the night before for migraines.
So yes, behind all the social media postcards I've been writing home to my family and friends from the press gallery, there's a room full of folks running on the fumes of adrenaline; most for reasons beyond their own fault.  Well, the 20-somethings are generally at fault for how tired they are. Oh to have all that I have now with the energy I had 10 years ago.
During the main event, I had a friend watching from the 300 section of the Canadian Tire Centre, having the time of his life. He was confused when I mentioned I was in the building, but absolutely not in the media pits in front of the stage.  No, I was sequestered in the press room, catching red carpet photos of winners, nominees and others like I was catching Pokemon, and watching his Facebook feed as he started posting selfies of himself as he was partying with the crowd.  
After all is said and done though, and as much as I love my buddy, my seat was the better seat.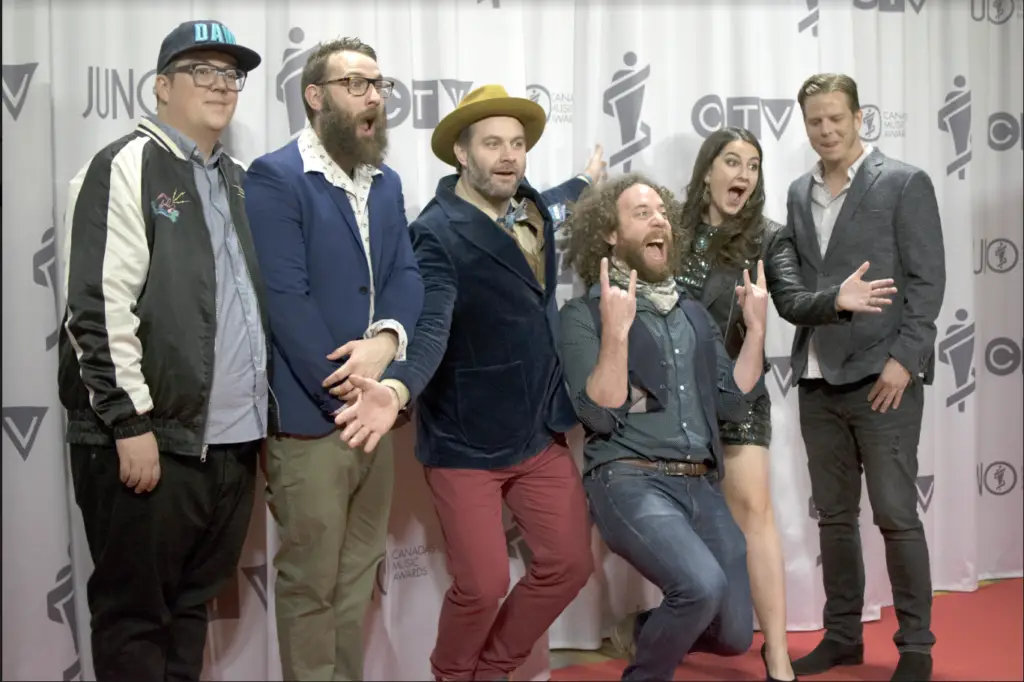 Observation: Civic pride is a beautiful, beautiful thing.
This goes off a bit of the discussion of music industry talk, but it needs to be said: I adore Ottawa. Folks who are from here call it the town that fun forgot.  As with with anyone's hometown, you tend not to see the things that actually make the place cool. In my case, this isn't my hometown, and for the past seven and a half years I've been living in and around the National Capital Region, a part of me still views parts of the city through the lens tourist.  For me, Ottawa is all the simplicity of the cities and towns down the 401 without actually being all that boring any time of the year.  I mean, we have a month long festival dedicated to a specific flower during the month of May and people eat it up.  But the folks here seem to have a running list of tours that completely skipped the capital and opted to play Montreal or Toronto; and yet completely forget that the music festival season starts the first weekend of June and doesn't quit until the fall equinox.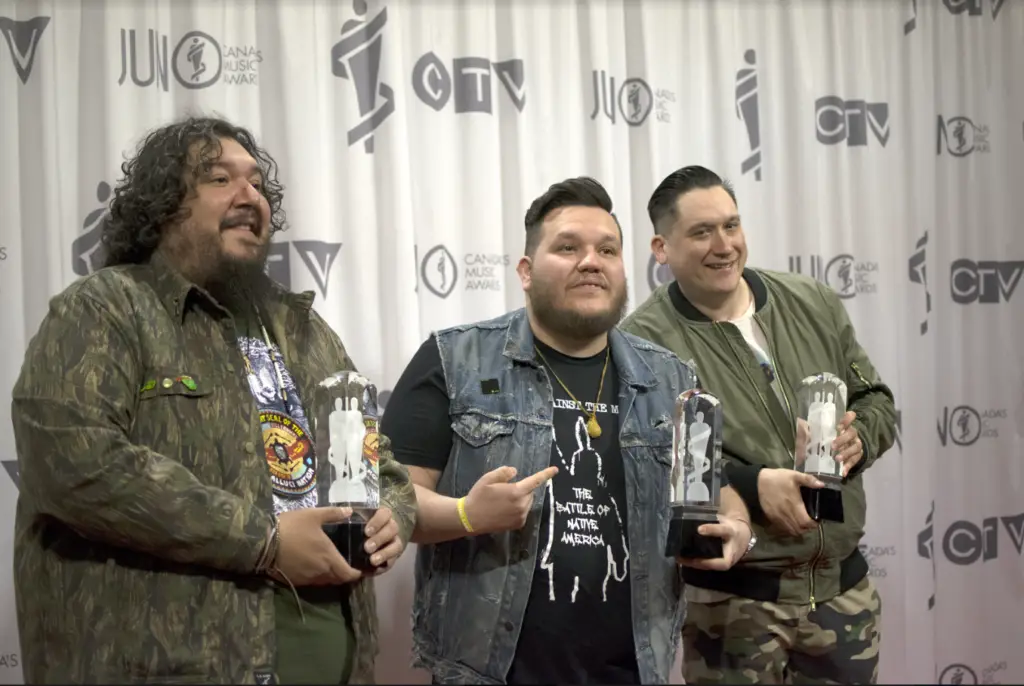 Ottawa is full of bureaucrats and politicians, but face away from Parliament Hill and you have a city itching to welcome the country for the big sesquicentennial party. Mayor Jim Watson wandered the Rideau Centre during the Juno Fan Fare event, thanking folks for coming; and he made sure to be the first person to greet the artists and passengers aboard the Juno Express Friday afternoon. The organizers of the volunteer committee wanted to attract at least 2,017 volunteers (Get it? Get it? 2,017 volunteers?) for the event, and they had to cap off the number at 3,000.
And local musicians, well, they got their own very special spotlight during every event I saw them at.  It felt like the Westfest festivities on steroids on occasion.  If it wasn't the pride of the Ottawa International Jazz Festival, Kellylee Evans, belting out Blue Rodeo tunes with Jim Cuddy, it was Jim Cuddy introducing Kathleen Edwards as the "Queen of Stittsville."  MonkeyJunk, Amanda Rheaume, and especially A Tribe Called Red, were atop of their own pedestals.
I think there's something to be said about a city that truly tries to taken pride in welcoming such a weird and wonderful event. Lucky me, I get an entire year of these wonderful parties in my quirky adopted hometown.
Now only if Ottawa could get its act together and build an arena near the downtown core so I don't have to slog all the way to Kanata and back, I'm pretty sure all would actually be perfect.