Fascinating Interview with Rick Rubin: "For Me, the Beatles are Proof of the Existence of God"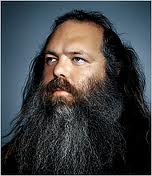 Rick is in the news again because of his involvment with Kanye West's Yeezus. Bobby passes this along from The Daily Beast/Newsweek:
It is a good day to be Rick Rubin. For starters, Rubin, the cofounder of Def Jam Recordings and perhaps the most prominent record producer of the last 30 years, is working in Malibu, which isn't a bad place to slave away. He's in the midst of a session at the legendary Shangri-La Studios—the bucolic, residential recording complex set up by the Band in 1976 as "a clubhouse where we and our friends could record albums and cross-pollinate one another's music," according to the late drummer Levon Helm. Bob Dylan once lived in a tent in the rose garden; his tour bus is still parked in the backyard. The Band recorded much of The Last Waltz with Martin Scorsese here. Eric Clapton recorded here, too. So did Van Morrison.
On a recent Friday, Rubin is adding horns to a track from the debut solo album by Jennifer Nettles, the lead singer of the country-pop duo Sugarland. The song is a cover of an underappreciated 1980s classic-rock ballad (I'm not allowed to disclose which), and it sounds incredible. The sun is shining. Birds are chirping. The surf is breaking one block away on Zuma Beach. Rubin is padding around Shangri-La—which he is in the process of renovating, mostly by painting everything white—in a plain white T-shirt and pair of black board shorts with an orange stripe on the side. His girlfriend, actress Muriel Hurtado Herrera, is nearby; so is his Hungarian puli, Cielo. His feet are bare. His skin is a smooth golden tan, and what remains of his manic silver-brown hair has turned blond in places—the product of hundreds of hours spent paddle-boarding on the Pacific. He lives two minutes away, also in Malibu. His rabbinical beard is as abundant as ever. He looks like a heavy-metal surf bum, or perhaps the world's wealthiest hobo.