A Fat Wreck: A Documentary About Fat Wreck Chords
If you're into 90s/2000s punk revival, you've probably heard something that's come out of Fat Wreck Chords. The influential California punk label is featured in a documentary coming to VOD and Blu-Ray/DVD on November 22. Successfully crowdfunded, A Fat Wreck: The Punk-u-mentary premiered at Dallas International Film Festival.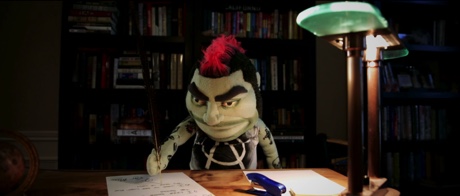 Featuring puppet re-enactments, A Fat Wreck tells the story of founders Fat Mike, of NOFX fame, and his ex-wife Erin Kelly-Burkett. The documentary describes itself as "half inspirational story of chosen family and community, half debauchery and occasionally involuntary drug use".
The documentary includes members of NOFX, Foo Fighters, Bad Religion, and Against Me!, among others.
It promises to be as entertaining as the fast-paced, pop-punk that Fat Wreck Chords released. It even includes a dominatrix spanking a puppet.
You can pre-order the documentary at afatwreck.com and on iTunes.