Ferrari to Deadmau5: "Cut It Out"
When I finally win Lotto Max, I'm going to put in an order for a Ferrari 458, one of the drop-dead sexiest vehicles ever dreamed up. Since it's a Lotto Max win, I'll also be ordering a Bugatti Veyron, a Porsche 918, a McLaren P1 and maybe an Aston DB9 for going to the grocery store, but let's focus on the Ferrari for now.
If you're unfamiliar with the species, it looks like this.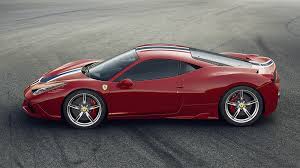 Before options, this beauty will set you back somewhere north of $275,000. It is a machine that demands respect on al levels. Which brings me to Deadmau5.
Mr. Zimmerman make tons of money–enough to have his own 458. And here's what he's done to it.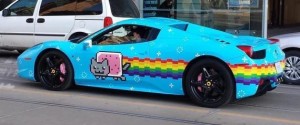 Yes, he's painted this beautiful supercar in a Nyan Cat theme. And if you're unaware of Nyan Cat, this is what we're talking about.
This paint scheme is an affront to Ferrari, which is why they've sent Deadmau5 a message: "Cut it out." I have the feeling that the implication is that if he didn't stop desecrating this prancing horse, he'd never, ever be allowed to buy another Ferrari ever again.
So what did Deadmau5 do?  Read the story here.