FIGHT! Kanye West vs. Producer Bob Ezrin. It's Already Gotten Weird.
In one corner, it's Yeezy, the self-appointed Greatest Artist Who Ever Lived™. In the other, Canadian producer Bob Ezrin, the guy who worked with Alice Cooper, on all those KISS albums in the 70s as well as a little record called The Wall for Pink Floyd. You might have heard of it.
Like a lot of people. Bob has had it with Kanye's craziness, arrogance, rudeness and petulance, something he expressed in Bob Lefsetz's industry newsletter. At issue was a front-page story in Sunday's New York Times that framed Kanye's nuttiness as "art." It reads in part
The great musicians, writers, poets, rappers, performers, dancers, players, conductors, directors and producers work all their lives for that one moment of complete perfection – that one brilliant performance, that one perfect song, that one enduring and life-altering work. 10,000 hours is peanuts in comparison to the real amount of time spent by true artists in their lifelong pursuit of excellence. But no one else that I have seen is this happy to have the audience watching all along the way. They are working to the culmination of something; to the exquisite feeling of completion that comes from working and reworking until that moment when their creation, or their performance, is as good as it could possibly be. This guy is just feeding the media machine and I'm not even certain to what end. Maybe he JUST needs the attention, like that flasher, and isn't happy unless he's the center of it.
What galls me the most though is the thought that he and others – especially the media – might actually BELIEVE that he's an artist. With a capital "A." That what he's doing is of any real consequence besides for the sheer train wreck gawker value of it.
I don't even know why I'm so angry about this. Except maybe I lament for a world where being truly, world-shakingly excellent at anything – at least in the field of popular music if not elsewhere – is no longer absolutely necessary. You can be a star today just by creating a public life that people pay attention to. That's it. All you have to do is be interesting or likable or shocking enough and you can have your 15 minutes of fame…even if that means that no one will remember you or what you've done in just a few years. Line 'em up. How many "popular artists" have come and gone in just the last decades. In my mind (which is a pretty busy as often too judgmental place, I will admit) real artists make stuff that changes the world and LASTS.
The whole rant can be found here.
Kanye caught wind of this criticism and went on his own rant on Twitter.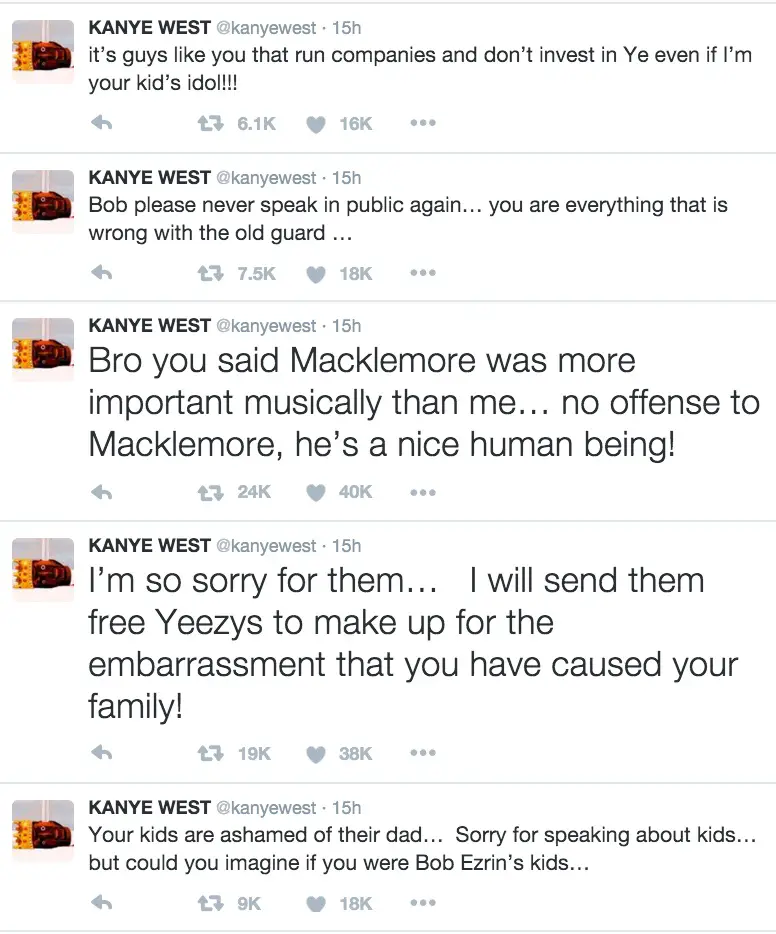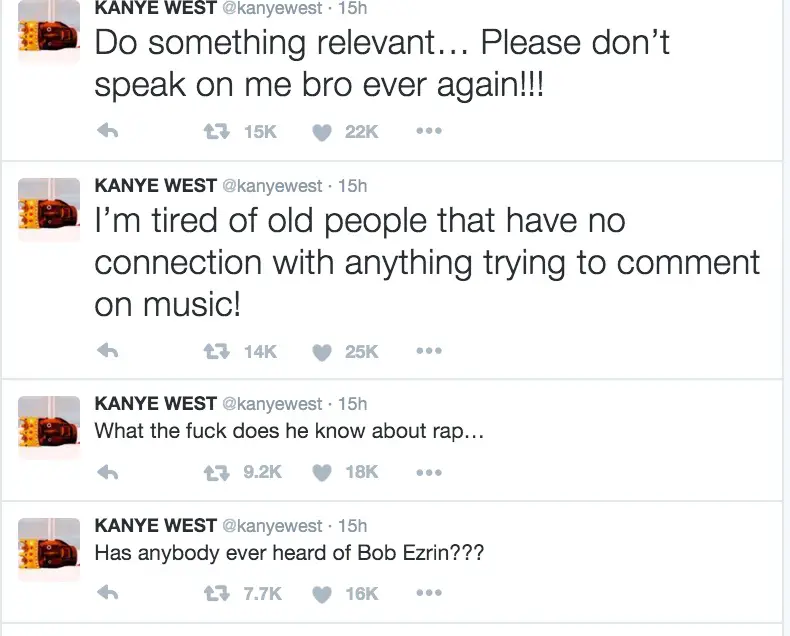 This led to an assault on Bob's Wikipedia page by persons unknown. You can see the entire evolution of the new edits here. Childish, yes, but still kinda funny.