Fighting al-Qaeda with Hip-Hop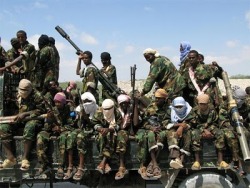 Even by the evil standards of other al-Qaeda franchises, the thugs in al-Shabaab are extreme. Killing, intimidation, piracy and extortion are all in a day's work for these people. But there are those in Somalia and Kenya that refuse to back down.
From the Guardian:
Shine Ali doesn't scare easily. If he did, he would not be with his band in a basement studio in Nairobi, rapping lyrics that challenge the Islamist rebels who control much of his homeland, Somalia – and whose reach extends deep into the Kenyan capital.
Ali is well aware of the risks he is running. Three years ago, members of the al-Shabaab group broke into his home in Nairobi's Eastleigh neighbourhood and shot him.
"They said, 'Your message is anti-jihad. You are telling the youth to give up jihad,'" the 29-year-old says in halting English. Ali edges down his baggy checked shorts, pulls up his hooded sweatshirt and shows a scar on his right hip. He has another one on his left arm.
"When they shot me, I knew that if I stopped the music, they would win but if I continued, my power would win."
Ali is a founding member of Waayaha Cusub, an 11-member hip-hopgroup that includes Somalis, Kenyans, an Ethiopian and a Ugandan.
The band is, in its composition, a defiant challenge to the al-Qaida-linked rebels of al-Shabaab and to the thorny political realities of the Horn of Africa.