The First Kate Bush Concert in 35 Years Was an Awesome Success
Mandatory Credit: Photo by Ken McKay/REX Kate Bush Photograph: Ken McKay/REX
Tuesday was a rather special night at London's Eventim [sic (and nee Hammersmith)] Apollo theatre for Kate Bush has returned to the stage. She last played live on this very stage 35 years ago, in 1979 when she was just 20. On that final night, witnesses saw a show featuring 17 costume changes, 6 dancers dressed as violins, 1 large egg, loads of fake blood and a 24-song set list."
Outside of a few sporadic short performances here and there, she had not played live since the days before Ronald Reagan. Put another way, the last time there was a Kate Bush concert, the original Sony Walkman hadn't gone on sale yet.  CDs were still several years in the future.  It was, in short, an occasion of immense historical significance.
So how did the first gig of her 22-show Before the Dawn residency go?  Majestically. Brilliantly. Gloriously.
The Guardian, recognizing the import of the proceedings, dispatched a multi-person team to the Apollo to cover the gig inside and out. It makes for some very interesting reading.  I especially like how the venue was patrolled for people using mobile phones instead of enjoying the show.  Apparently some patrons were ejected for cellular indiscretions.
Here are some official shots for the show via The Guardian.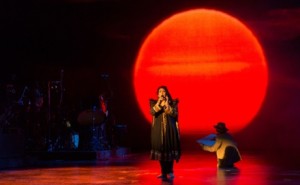 Mandatory Credit: Photo by Ken McKay/REX Kate Bush Photograph: Ken McKay/REX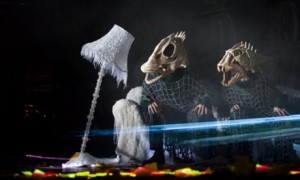 Mandatory Credit: Photo by Noble & Bright/REX Photograph: Noble & Bright/REX
Now, the set list:
Lily
Hounds of Love
Joanni
Running Up That Hill
Top of the City
King of the Mountain
The Ninth Wave
And Dream of Sheep
Under Ice
Waking the Witch
Watching You Without Me
Jig of Life
Hello Earth
The Morning Fog
A Sky of Honey
Prelude
Prologue
An Architect's Dream
The Painter's Link
Sunset
Aerial Tal
Somewhere in Between
Nocturn
Aerial
Among Angels
Cloudbusting
More coverage can be found here and here.  I gotta figure out a way to get to that final show on October 1.