First Look at Jared Leto as The Joker
The much anticipated film 'Suicide Squad', directed by David Ayre, is expected to be released in 2016.
Ayer is due to start shooting the eagerly-anticipated film following a team of infamous DC Comics super-villains later this month (April). Alongside Leto as The Joker, Will Smith has been cast as Deadshot, Jai Courtney will play Boomerang, Margot Robbie will portray Harley Quinn and Cara DeLevigne is the film's Enchantress. Joel Kinnaman bagged the role of Rick Flag after a scheduling clash forced Tom Hardy to pull out of the film.
He posted this cast picture earlier this week. Unfortunately the one person missing was Jared Leto (He of Thirty Seconds To Mars and Dallas Buyers Club fame) who was cast to play The Joker.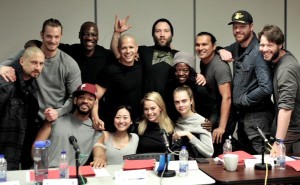 Ayre made up for that by posting this shot:
read the whole story here.