Florence + the Machine Play…A Boxing Day Sale?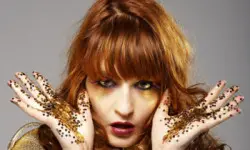 You may have lined up in the dark and in the cold outside some big box electronics store, hoping to score some kind of bargain.  What did you have for entertainment?  Probably nothing more than an iPod and a rapidly cooling double-double from Tim's, right?
Pish.  Consider what Harrod's, the super-tony department store in London, offered:  a performance from Florence + the Machine.
Decked out in a Chanel outfit, she arrived on a double-decker bus (in Harrod's green, of course) and acoustically performed "Shake It Out" and "What the Water Gave Me" to the people in line.