Fogel On Today's Touring Game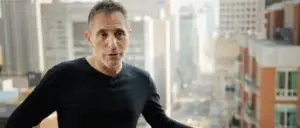 Arthur Fogel is a name we have heard more in recent years. You may recall the recent documentary called "Who The F**K Is Arthur Fogel" with interviews with the likes of Bono and partially penned by our own Alan Cross!
Fogel is the man behind most of the massive touring machines of the last decade or more. U2 360, Gaga's Little Monsters and on…
The UK Indepdendent interviewed him recently and he talks about the business he helped change:
"When I started promoting, the live business was at the bottom of the food chain," he recalls. "It was kinda like something you stepped over on the sidewalk. I don't think anyone could have predicted that live performance would now be the centre of the business and the economic driver for artists."
And on trying to get Bowie to tour again:
His big ambition is to persuade David Bowie to return to live performance, a decade after illness forced the star off the stage. Fogel says he sent Bowie an email last year begging him to tour and received the reply: "L-O-L." But the promoter remains undeterred. "I'm hopeful but I don't know. Occasionally I throw some ideas at him but obviously the right idea hasn't come along in the last 10 years."
Read the entire interview here.