For a while, Siri thought that Donald Trump was a penis
Gaming Wikipedia can have all sorts of interesting effects. For example, Apple's Siri assistant often draws from Wikipedia entries when people ask questions. It stands to reason then if Wikipedia information is compromised, Siri's answers will be similarly skewed.
Such an instance seems to have occurred yesterday (November 22) as Americans were sitting down to their Thanksgiving dinner. According to this post at The Verge, asking Siri "How old is Donald Trump?" returned text that substituted a penis for his picture.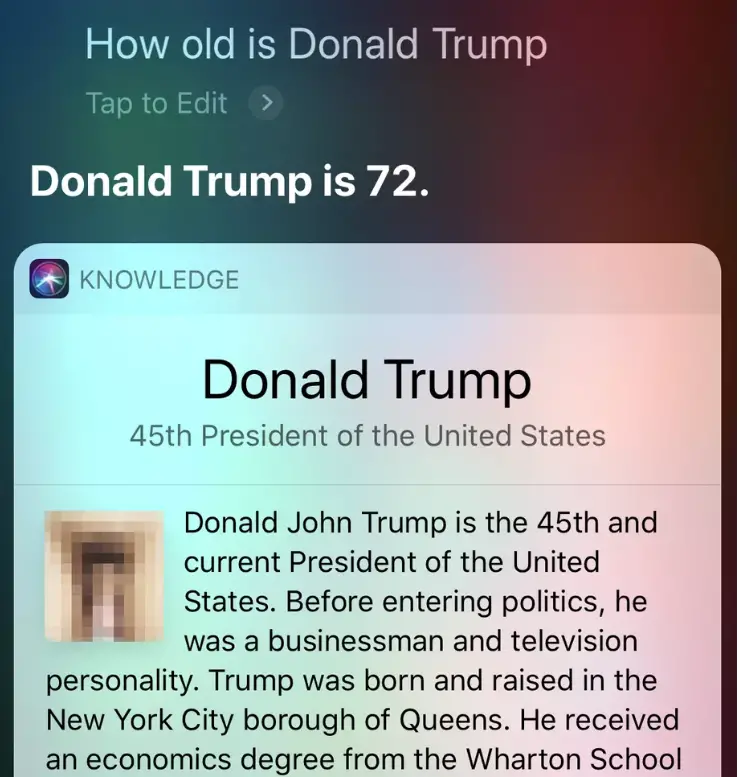 I tried asking the same question of Siri this morning and the penis was gone, replaced by the bog-standard portrait otherwise seen on Wikipedia.
It seems that the vandalism was the result of a number of editors. If you want to a record of the see the back-and-forth editing struggle, go here.
This isn't the first time Siri has been embarrassed by some activities beyond her control, of course (there's a whole subreddit called "Siri Fail") but it's probably the best since vandals convinced her that the national anthem of Bulgaria was "Despacito" by Luis Fonsi and Daddy Yankee.