Forgotify: A New Music Discovery Site
Late last year, it was announced that of the 20-million plus songs in the Spotify library, about 20% of them had never been played in the five years the site has been in business.  That's four million songs that have gone unheard.
Seeing an opportunity to cash in on this orphaned music, a new site called Forgotify has launched.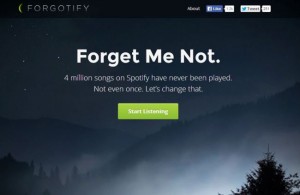 This means nothing to Canadians because Spotify isn't available in this country.  But give Forgotify props, yes?  (Via Metro)