Forty years ago, The Ramones hit the big screen with Rock'n'Roll High School
It wasn't a great movie, but it's fun. Forty years ago this summer, The Ramones made their theatrical debut by appearing in Rock'n'Roll High School, directed by Allan Arkush and starring super Ramones fan PJ Soles as Riff Randell. (You might also remember her as Bill Murray's love interest in Stripes.)
This, however, wasn't the original plan. Schlockmeister Roger Corman, the executive producer of the film, had been shopping the idea of a music-related movie set in a high school. After being bombarded by music-themed music like Saturday Night Fever and Grease, his concept was called Disco High.
But then New World Pictures convinced Corman to try something similar. "Disco? No. Make it rock'n'roll-focused."
At first, Corman went after Cheap Trick and Todd Rundgren, but both were too business. Enter The Ramones, thanks to a suggestion by actor Paul Bartel (he played Mr. McGree next to the evil Principal Togar, played by Mary Woronov.)
At this point in the band's career, they were pretty much unknown outside of New York and pockets of London and Toronto. But thanks to this low-budget movie, The Ramones' brand of punk rock made it theatres–most of them in the suburbs–across the continent.
The script was loosely based on a walkout at Superior Central High School in Wisconsin back in the 20s. Corman's father had been part of that protest.
It took a while to settle on a title. Heavy Metal Kids as considered and discarded. so was Girl's Gym. In the end, they settled on Rock'n'Roll High School, which is the name of the song Riff Randell wants to give to The Ramones.
The whole thing was shot in 23 days for–wait for it–less than $300,000 using the campus of Mount Carmel High School in South Central Los Angeles. It was slated for demolition, anyway, which is why they could wreck and burn the school at the end of the movie.
One scene that always make me laugh is how The Ramones' music caused lab mice to explode.
Now you know why there's a band called Exploding White Mice.
When it first appeared in New York theatres on August 24, 1979, the hope was this would launch The Ramones into superstardom. That didn't happen, of course. The band would have to wait more than a decade until the early grunge/Alternative Nation kids began to give the group their due.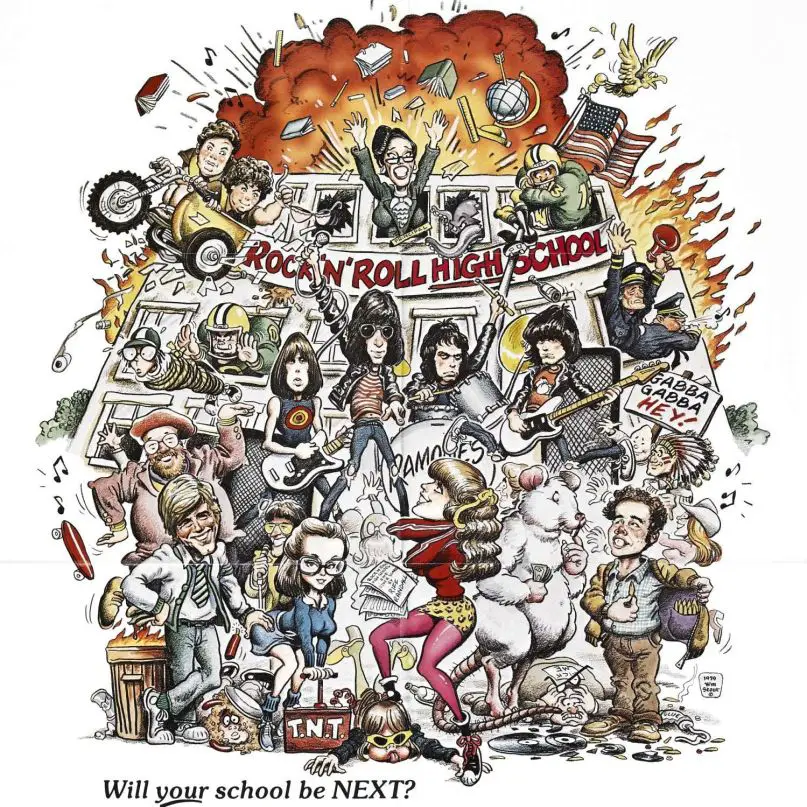 Why didn't things blow up for The Ramones? A contributing factor was certainly because the movie never received wide release; instead Corman toured the film around the continent. He was super-cheap, too, insisted that the film be held to about 90 minutes so all four reels of the movie could fit into one standard film container.
Read more about the movie here.