Foster the People's "Pumped Up Kicks" Just Won't Go Away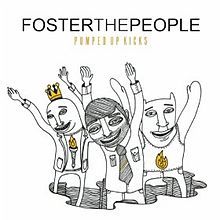 No, it's not your imagination.  This song–first released on September 10, 2010–is everywhere.  It's now sold more than 2.9 million downloads and appears on no fewer that five different music charts.  
Even soccer moms are singing it as they take little Dakota to her ballet class in the minivan.  I wonder if they realize that it's a song about a kid with a gun thinking about pulling a Dylan and Eric on the rest of the school.
What's the deal?  USA Today wonders:
An anti-bullying anthem that imagines the worst — a kid contemplating a Columbine —Pumped has popped up on screens small (Gossip Girl, The Vampire Diaries) and large (Friends With Benefits, Fright Night). Last month, the band performed the song on Ellen and Saturday Night Live.
Its sepia-hued, California-boys-at-play video has been checked out more than 35 million times on Vevo. Weezer covered the song live, and there are spinoff remixes and videos, including a dubstep dance tribute that has notched nearly 12 million views on YouTube.
So what's propelling Pumped to earworm-of-the-year status? Take some sunny '60s harmonies, add in dance-friendly '80s keyboards played by a few easy-on-the-eyes guys, weave in a little Centerfold-esque whistling and, most crucially, hook it to an infectious singalong chorus. "They're walking a tightrope very well in terms of eras, formats and styles. When you mix all that together, it becomes a very good recipe for a hit that works on so many levels," says Gary Trust, associate director of charts/radio for Billboard. "It's the perfect song."