Frances Bean Served Subpoena Deposition in Lawsuit Against Courtney Love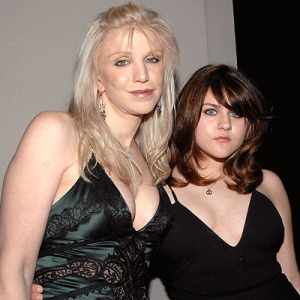 Here's the gist of it:  Courtney is accused of defaming Rhonda Holmes, one of her ex-lawyers, on Twitter. Holmes' firm is suing Courtney.
(I have much first-hand knowledge of this case since I'm, um, involved in some peripheral way. Hopefully I can tell the story sometime in the future.)
Now the Hollywood Reporter has this:
Late last month, Holmes' law firm served a deposition subpoena on Love's daughter, Frances Bean Cobain, hoping to follow up on comments that Cobain has made in the press about her mother's behavior. The law firm also sought sealed documents in Cobain's old guardianship proceedings.
The subpoena triggered angry letters back and forth between Cobain's legal counsel and Frederic Gordon, Holmes' law partner.
Cobain, 19, insists she knows nothing relevant to Holmes' defamation lawsuit against Love. Cobain says that in 2010, when Love tweeted about Gordon, she was in the custody of her grandmother and aunt and had no contact with her mother nor any knowledge about the tweets in controversy. She is now seeking a protective order against the deposition and looking to sanction Gordon & Holmes.
The case has been provocative from the start.