Fredericton's Turn to Be Strong
I hope to never have to see another trending hashtag featuring "(Insert City Name Here) Strong". Unfortunately they have become all too commonplace in real life, with New Brunswick's capital of Fredericton being the latest Canadian city victimized.
In case you may have forgot, a mass shooting occurred along one of its tree-lined streets a little more than two weeks ago that left four people dead including two police officers. A regimental funeral was attended by four thousand people, which ought to give everyone a good idea of how big a blow this was to an area known for being an arts-friendly hub, hosting things such as the Harvest Jazz & Blues Festival.
As we saw in the case of Toronto's Danforth, good things can result when a community comes together with music as a catalyst to try to heal. A benefit concert has been announced for Saturday October 6th at Aiken Centre on the University of New Brunswick campus. Some top shelf Canuck talent with East Coast roots are lending their support, namely Matt Mays (pictured above, fresh off The Gaslight Anthem's '59 Sound anniversary tour), rhyme-slinger extraordinaire Classified, burly bluesman Matt Andersen and Haligonian EDMers Neon Dreams among others, all hosted by David Myles. You probably know his smooth voice from collabing on "Inner Ninja".
The best thing about #FrederictonStrong though may be how the market's two radio broadcasters – Newcap and Bell Media – have teamed up to copresent the whole shebang. Also, whoever designed the event logo deserves some serious kudos, as it's pretty awesome.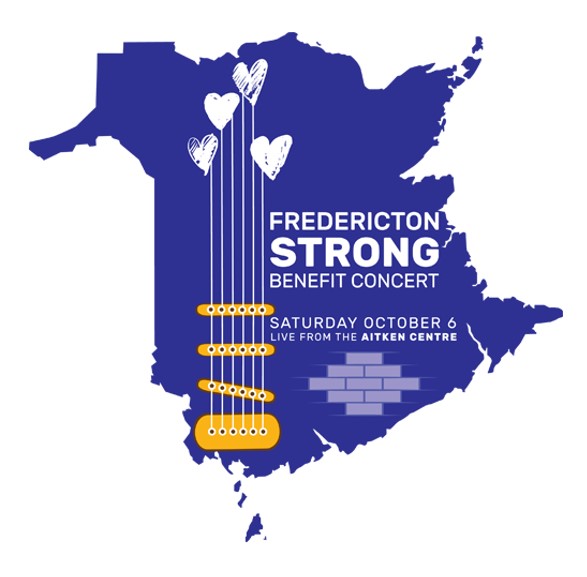 Tickets go on sale Wednesday August 29th at 10AM local time through the Aiken Centre's website, but you don't have to be a Maritimer to show the good folks of Freddy Beach the rest of the country cares. No ninja powers are required, just visit FrederictonStrongConcert.com.