From Mixtapes to Embeddable Apps: The History of the Car Stereo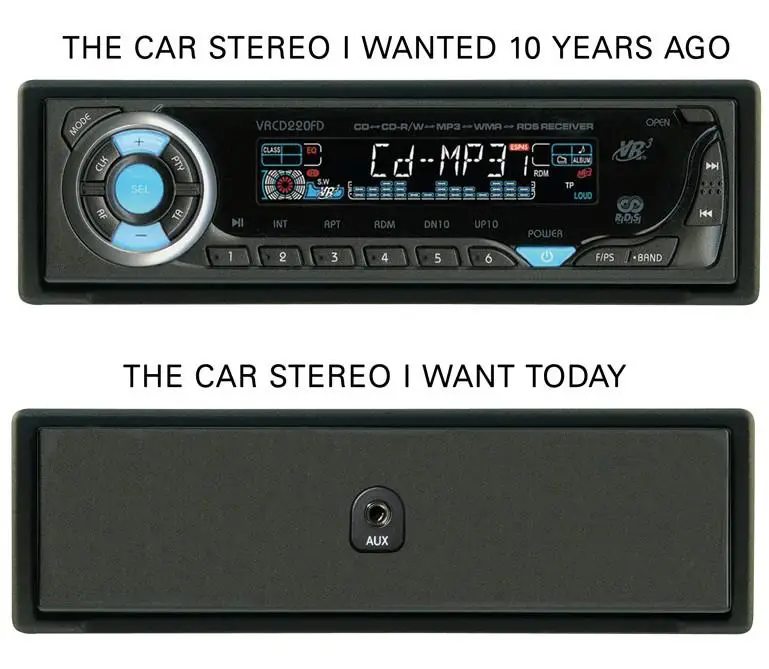 For many boomers, the slick and feature-packed infotainment systems in today's cars are a far cry from the car radios of yesterday. It's always amazing to see how far technology has gone to deliver your favorite jams and those all-important traffic and weather reports to your car.
As you plug in your iPod or give a voice command to your bluetooth, take a moment to look back at the long road taken to bring car radios into the 21st Century.
The First Car Radios
According to Mental Floss, Chevrolet became the first automaker to include car radios available with its 1922 line. With a gigantic aerial covering the roof, two huge speakers and heavy batteries, calling it cumbersome would have been an understatement. By the 1930s, Motorola introduced built-in radios that were a bit less demanding to install and use.
Upon its introduction, the car radio was seen by many authorities as a potential cause for distracted driving. Lawmakers in Massachusetts and St. Louis sought to ban radios while driving. Mental Floss found a 1934 poll from the Auto Club of New York where 56 percent of people thought car radios were a "dangerous distraction." Unlike the anti-texting and hands-free laws of today, anti-radio legislation didn't get very far.
Car radios continued to evolve over the decades, gaining useful features such as auto-seeking (as demonstrated by GM's Wonderbar radios of the 1950s), AM-FM capability (introduced by Blaupunkt in 1952), solid-state technology (in the Becker Monte Carlo of 1963), stereo sound (thank the Becker Europa of 1969) and built-in CD player (introduced in 1985 by Becker's Mercedes-Benz radio decks).
Taking your Music with You
The idea of plugging in your iPod or slipping a CD in isn't new. In 1956, Chrysler brought vinyl records into the automobile with the in-car record player. According to Gajitz, Chrysler's Highway Hi-Fi solved the issue of bumps causing scratches and skips – some of the same issues originally faced with CDs – with a proprietary, slower-turning vinyl disc and novel anti-skip technology.
That technology hit a dead end, but the idea of bringing your own music didn't stop there. The in-car eight-track tape player debuted in 1965, but that lost out in favor of the cassette as early as 1970. The cassette also brought the rise of the mixtape, making it one of the earliest ways to bring your favorite jams along for the ride. Until the advent of CDs, cassettes existed well into the 90s.
Satellite Radio, Embeddable Apps and the Future of Car Radios
Satellite radio, introduced in 2001 by then-XM Satellite Radio, is an incredible feature that millions of Americans enjoy – approximately 25 million, according to recent figures from SiriusXM. Millions of people also love the ability to connect their smartphones, MP3 players and iPods to their car stereos and infotainment systems.
Embeddable apps are the current new tech that automakers and car buyers alike are interested in. Mashable notes that these apps deliver content directly to drivers, keeping them entertained while keeping their hands off their smartphones. These kinds of features are important to drivers. For example, many DriveTime customers are just as concerned with audio and tech features in a car as they are safety ratings or gas mileage. Combined with the latest in voice command technology, embeddable apps deliver a safer, superior connected driving experience.