From Shooting Birds to Shooting Bands: The Story of Rock Photographer Cindy "Badass" Hurt
[I hear from a lot of people who have ambitions of being a rock photographer. Here's the story of someone who made it happen courtesy of Susan Andrews. – AC]
Once upon a time. there was a woman named Cynthia Hurt.  
She had children, a house, and a husband, and enjoyed photography as a hobby, focusing on birds in flight. She also belonged to the toughest competitive-photography site on the net, DPChallenge, aka DPC, wherein about 99% of all challenges, entries must be shot within a week-long time frame.  This seemingly trivial fact is important because if your image does well but is then found to have been taken outside that time frame, your image will be disqualified.  You will soon see why this is important.
From Cynthia: 
"In September of 2013, Chicago, the band came to Eastern Kentucky University, where I worked, to perform at our new Center for  the Arts.  I was a secretary in the Mathematics and Statistics Department and had been there 8 years.  My hobby was bird photography at the time.  Birds in flight to be more specific.
"The night of the performance, my dad had some extra fourth-row tickets.  I was on the fence about going because my husband was out of town working, but I found out there was a challenge on DPC called 'Words II', and that convinced me.  I knew my focus was going to be on the drums as Chicago, like most bands, have their logo on the drums.
"I snuck my camera in and shot the whole show.  I was pretty pleased at the results through the back of the camera, then they start playing "25 or 6 to 4".  The last song of the night.  At the end of the song, the drummer stands up, waves, and points at the crowd.  I imagine he spotted the big lens in the fourth-row pointing at him and he pointed right at me.  It was a life changing moment.
"I had been a member of DPC for many years, and 'Words II' was my 101st challenge.  Before submitting the photo, I looked up the name of the drummer and also found his fan page on FB.  I named the photo "The Fabulous Tris Imboden" after that page. 
"Not only did this photo win me my first ribbon, it was the coveted blue ribbon.   It's a really really good feeling anyway.  I won the blue, yay for me, now life goes on right?"
Very true, winning a blue ribbon is not at all easy on DPC, but it's a high that cannot be replicated.  Most of us revel in the glory of winning a challenge for a week or so and enjoy the accolades, and of course always see that blue-ribbon icon on our site pages.  But she took it to another level.  Enter social media.
"The next thing that happened was Facebook.  I posted Tris' photo on his fan page.  It was very well received and I came to know how great their fanbase was right away.  After a slew of real nice comments, Tris Imboden himself commented on it.  I was ecstatic.  I told everyone at work to the point probably of being really annoying.  Then on the same thread I ask a question, "Tris, why is there a Mr. Potato Head in every photo I see of you."
"First off, there really was a Mr Potato Head sitting next to his drums in every picture.  Secondly, Tris is a bald man.  He didn't take it well and he let me know it right there in the thread in with hundreds of fans who had liked and commented following the whole thing.  I recall him saying "I've been called a lot of things, but never this.  I had a battle with cancer and decided to keep the look".  I was freaking out!  I quickly posted the photo again with Mr. Potato Head circled and everything was fine again, but for 5 minutes, I thought I had insulted the drummer for the band Chicago!"
But wait, there's more.  This story goes beyond just winning a photo competition and sharing it on FB with the famous musician in that photo.  Next, Cynthia was contacted by the legendary Walfredo Reyes Jr, the percussionist for Chicago (and former drummer for Santana), who was wondering if she had any good shots of him too.  She did.  They exchanged emails and soon were  corresponding on a regular basis.
"So one day he (Walfredo) writes and says that next time I can make it to one of their shows, he wants to meet me backstage and give me a photo pass to shoot the entire show.  With a show just only a few weeks and a short drive away, i was nervous and excited, but I did it.  My husband and I went backstage before the show and Wally and Tris gave us their all-access passes for the night.  I shot the show and we met again backstage.  I'll never forget all the kind words from the two of them.  It was unreal.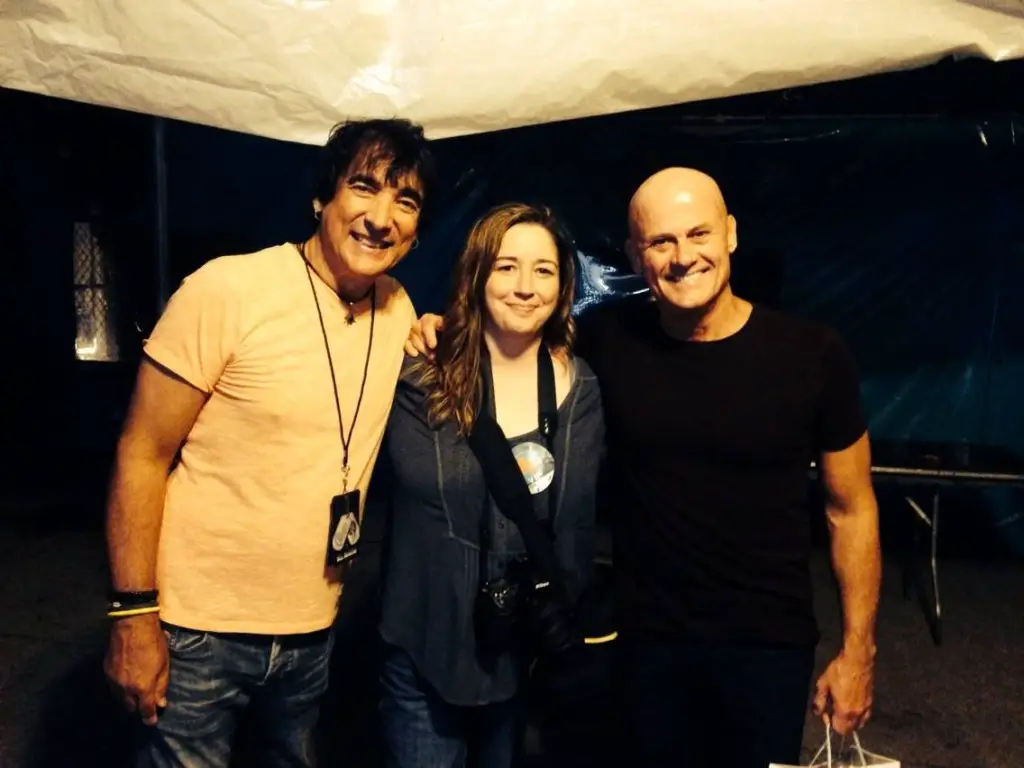 "After that came an off-stage shoot with Wally, BBQ dinner in Georgia, and several more opportunities to shoot the show.  I was also invited to shoot a drum clinic hosted by Wally, Tris, John Paris of Earth, Wind, and Fire, and Daniel Reyes of the Zac Brown Band.
"Meanwhile, at home, I was beginning to feel antsy.  At night I was chatting it up with fans, photographers, and musicians, some of whom were big names, because they liked what they were seeing.  But the next morning, I still had to drag myself out of bed for 8 hours at a secretarial job whose benefits far outweighed the actual pay.  It was kind of soul sucking.
"So in September of 2015, I sold my house, quit my job, said bye to my hometown and my family, including two beautiful daughters and a handsome grandson.  I decided to do photography full-time, travel wherever my husband's job took him, and well, cook.  It was a rough Christmas.  Money was tight, rent was high, I was quickly losing hope but worked full-time on social networking, tutorials, and just taking photos."
But the kicker that really thrilled Cynthia and her fellow DPCers was when Chicago hired her.  And it all started with a simple point of a finger at a fan who also wanted a shot for a photo competition, and was ready for it.
All I can say is, Cynthia, you rock.  Seriously.  I am in awe of what you've already done, and you've only just begun.  And you guys in the band?  Take good care of Badass, or you'll have me to answer to!
Susan Andrews is a writer, photographer and longtime member of DPChallenge.