Fumbling for a CD While Driving in Ontario Is Okay But Just Holding a Cell Phone Will Get You Busted.
It's official. If you're driving a vehicle in Ontario and you so much has have a cell phone in your hand–even if it's turned off–you're breaking the law.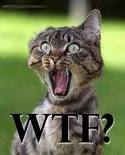 This is the ruling in two separate cases that came down this past week involving two people who were convicted violating the ban on using cell phones while driving.
One woman appealed when she bent over to pick up her phone when it rolled off the seat and onto the floor. She wasn't using the phone in any way. She was just holding it when she got busted. Another guy was caught with his phone in his hand but argued that it couldn't be proven that it was receiving or transmitting at the time.
Both cases were originally overturned on appeal but a higher court ordered the convictions reinstated. The court ruled that it doesn't have to be proven that the phone was actualy in use for a charge to be laid under the Highway Traffic Act. They now both have to pay the fine which is $155.
So you've been warned. You can fumble for a CD, poke around on the radio, mess with your GSP, scarf a cheeseburger or root in your purse for your smokes but don't even THINK of even touching your cell phone.
Hey, I'm all for anything that cuts down on distracted driving, but being busted for holding a cell phone that's turned off?
More at the Toronto Star.