The Future of Radio–According to (American) Teens
If you're under 25 and whether you know it or not, your involvement with traditional radio is much different than in generations past. With so many more ways to acquire and listen to music, radio's share of the pie is diminishing. A recent report by Piper Jaffray in the US shows how teens are listening to music these days.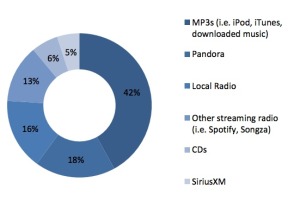 This may seem pretty ominous to people in the terrestrial radio business–and it is. However, there's an incredibly awesome opportunity buried in this numbers.  Consultant Mark Ramsey nails it:
[T]he question was specifically about "time listening to music." To the degree that teens will go to radio stations for a broader mix of services and value propositions, the answer to the question will shift accordingly. What the result really tells you is not that teens are turning off to radio per se, but that they are making room for more music-focused services on their entertainment menu.
The more attractions you have besides music, the more essential and vital you shall remain.
Read his entire analysis here.