Gaze upon these photos from Nick Cave's show in Toronto.
A Nick Cave show in the lead-up to Halloween? That's what staff photographer Andrei Chlychkov captured at the Scotiabank Arena in Toronto on October 28. (Here's the setlist.) Text by Khashayar Bavarsad.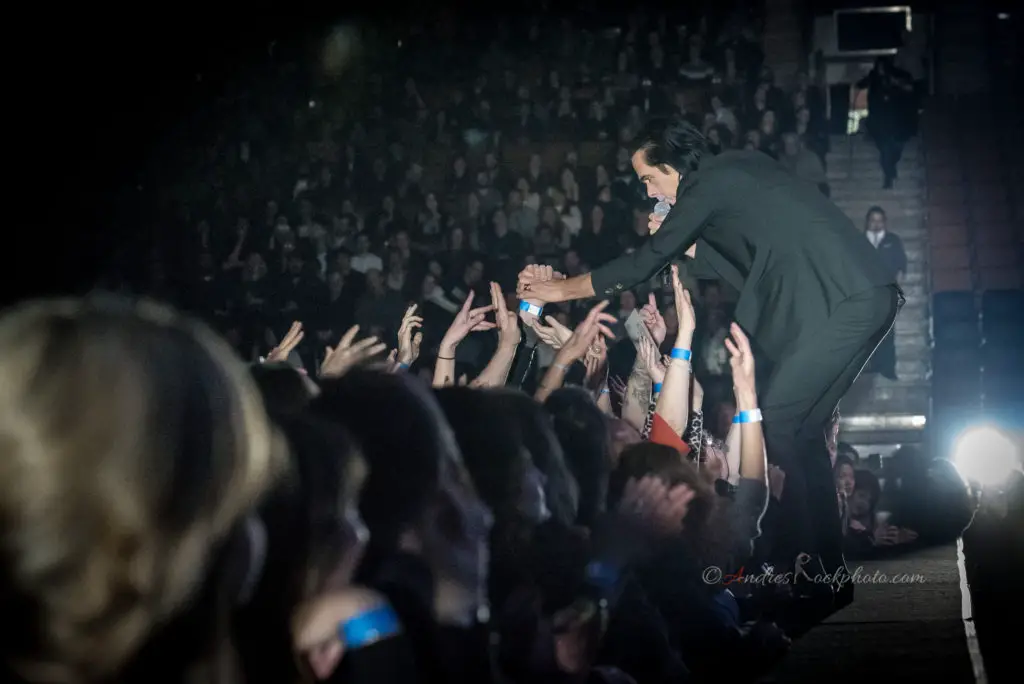 For those who were looking for an intellectual and sophisticated take on Halloween season's macabre scenarios, no other gig could come even close to Nick Cave and the other-worldly The Bad Seeds singing ballads of murder, mystery, and painful romance.
Some were a bit concerned that the cavernous Scotiabank Arena might not be the right venue for Nick, but all their doubts were proven wrong in a matter of seconds Nick and Co. totally owned the stage.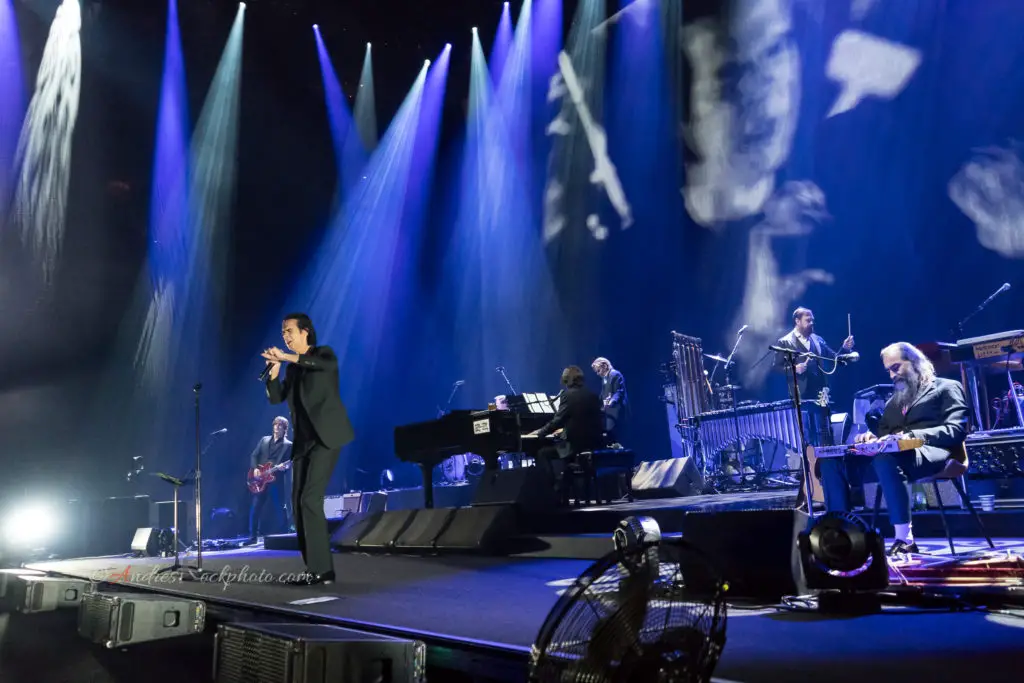 Cave had several winning cards in their hands. One of them was the genuine interaction with the audience, mostly by the super charismatic frontman in the black suit, Cave himself, stepped down into the crowd on a couple of occasions, holding conversations with individual folks and improvising lines. Onstage, he jumped around, kicking the stands and throwing the microphones here and there, possibly to the great panic of the sound guys. (The sound in the area as excellent, by the way.)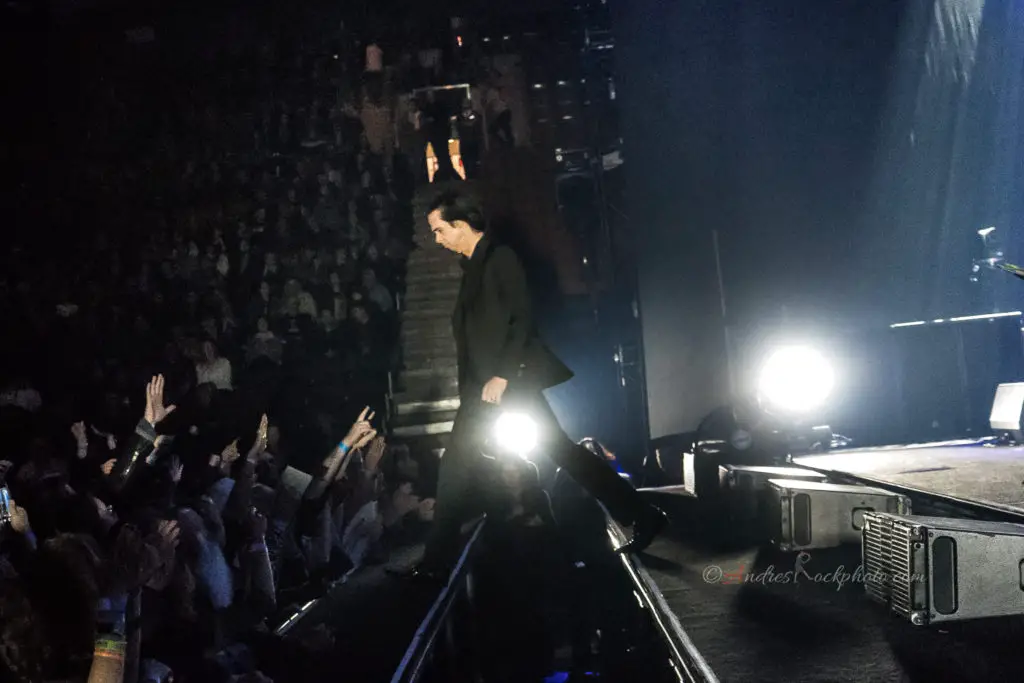 The Bad Seeds lived up to their properly nasty rock 'n' roll name by bringing the sounds of heaven and hell, angels and demons into the earthly arena. The band, who exchanged their instruments with each other after every couple of songs or so, were lead by maestro Warren Ellis, He acted like a conductor orchestrating the whole extravaganza.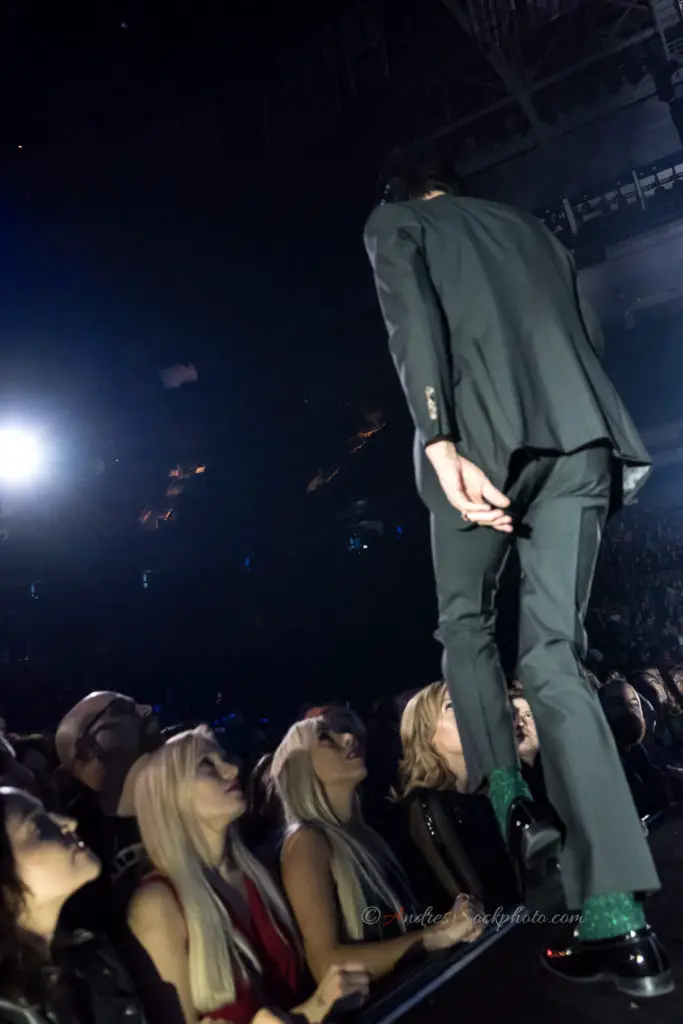 The setlist had something like three movements to it: a violent beginning and ending, surrounding a gentler middle part.
The highlights of the first part included an explosive rendition of "From Her to Eternity" especially cherished by those who remembered the song from the Berlin underground scenes of Wim Wenders' film cinema Wings of Desire. It was followed shortly by "Red Right Hand" with the blood red lights soaking the whole place, which Cave dedicated to Brazil, lamenting a "terrible day" for that country and proving his political consciousness.
The middle bit featured Cave sitting behind the grand piano playing songs like "Into My Arms", and "God is in the House."
The last part had marvels such as "The Weeping Song" with Cave walking in the middle of the song to a smaller stage in the middle of the audience and encouraging them to clap the song's beat. Another tune to remember for was "Stagger Lee", which had Nick Cave at the height of his performing power, Warren Eliss' Fender Jaguar deafening roar and many members of the audience on the stage.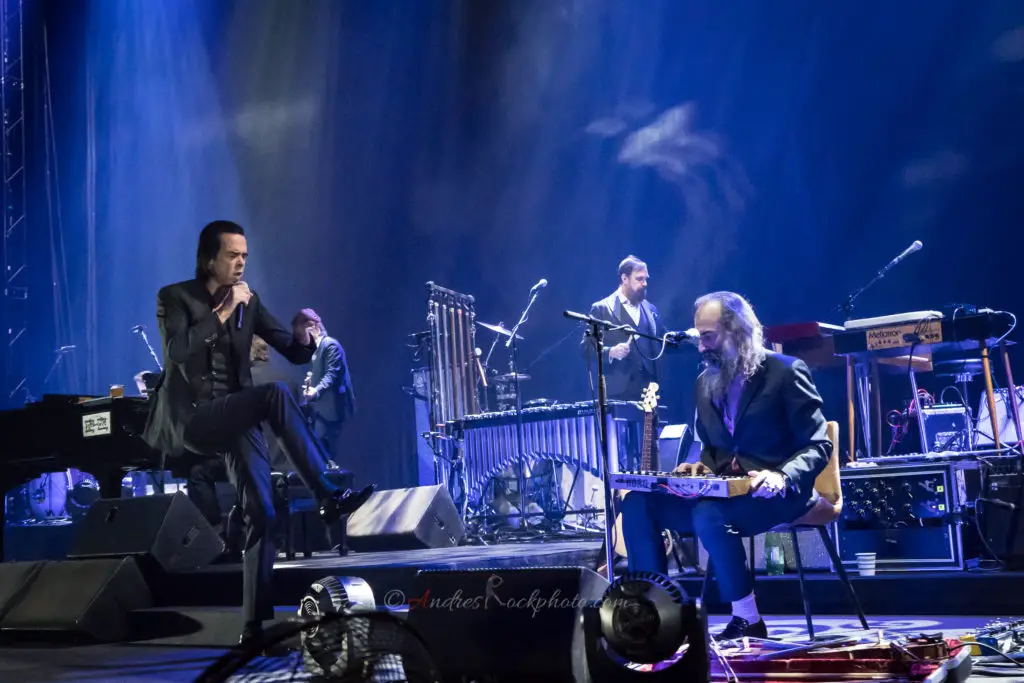 If you haven't heard Nick Cave bending and screaming at you to hear his heart "BOOM BOOM BOOM", you probably haven't experienced real live music yet. He and the Bad Seeds are the very definitions of live music. Period.