Geeks & Beats Episode 12 Now Available (Show Notes, Too)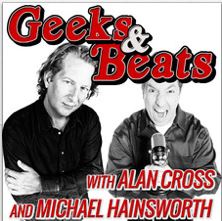 Let's call this episode Flobi-Wan Kenobi in honour of Florence Welch (she of Florence + The Machine) who is apparently about to be cast in the next round of Star Wars movies.  I have no idea what kind of character she'll play, but having met Florence, I can attest that she's rather alien.  
But as someone who has hugged her (she smells nice and is really, really soft and squishy in an oh-so-pleasant sort of way), I'm hoping she'll use the Force in erotic ways.  About time someone did, innit?
Also on the show is David Brzozowski, the founder of a cool app called Vinylize.me which allows anyone to create cool-looking album art for their MP3 playlists.  It has a really interesting retro vibe to it.  Go on. Spend the $1.99 and experiment!
Michael and I try to dissect how my Instagram virus infected the entire Internet this week–and how it landed me on CNN, Fox, NBC, Global and CP24 as well as in The Times, The Daily Mail, The Straits-Times, Gawker and a million other places.  I'm shocked at how far an errant sausage has taken me.
Other topics this week:
–Iron Maiden's Bruce Dickinson is thisclose to forming his own airline.
–There's a new video game based on Joy Division.  WARNING:  It's so depressing that you actually may want to hang yourself.  (Sorry.  Too soon?)
–Why we still need recording studios.
–And why there's a good chance that Lou Reed's new liver will reject him.  Damn guy is just too hard to work with.
Plus!  Someone paid to be a co-producer.  And we have a winner in our iTunes review contest.
Geeks & Beats is available through iTunes–or you can download/stream the show right from our site.